How to Start an Underwater Robotics Competition Team
By Kurt Yeager
Kurt has been a coach and mentor of several middle and high school teams and a volunteer judge in the MATE (Marine Advanced Technology Education) Underwater Robotics competition. He is currently a Business Development Manager at Blue Robotics.
At the 2014 MATE Regional competition in Monterey, California, one of the volunteer judges for our team's underwater mission was a U.S. Navy Commander. In the mission debrief, he commended the 15-year-olds for their preparation, teamwork, problem solving, communication, and trust, under high pressure in rapidly changing conditions. That was the day I realized how valuable the MATE experience was for these kids.
Whatever your motivation may be, starting up a marine robotics club offers middle school and high school students a unique and invaluable opportunity to get hands-on experience designing, building, and operating an underwater remotely operated vehicle (ROV). The students will learn technical skills as they apply technology to solve real world problems. They will also learn important life skills like critical thinking, communication, collaboration, and leadership.
Marine technology is growing rapidly in importance as we continue to explore, manage and find new ways to utilize our oceans and waterways. There is also a growing demand for engineers, especially those who can work on military, DoD, or other government contracts that require security clearances.
Underwater robotics is a fun way to expose more kids to engineering at an early age and expand the pipeline to help meet demands for a highly skilled workforce. It offers a very accessible introduction to any engineering field, including aeronautical, environmental, mechanical, electrical, biological, computer and software engineering. Non-engineering students will also benefit, as they pursue jobs in sales, marketing, accounting, or operations.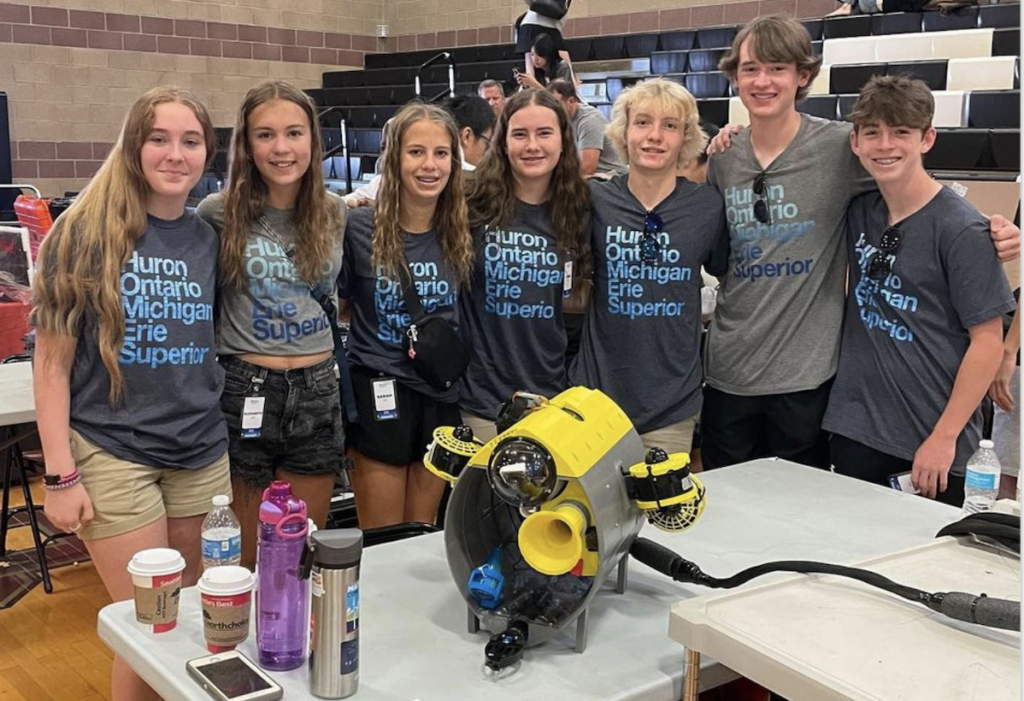 My ROV journey started at the dinner table in the fall of 2009, the year my son was just starting 5th grade. My wife passed me a newspaper article from the Monterey Herald about the MATE Underwater Robotics competition and said, "You need to do this." The rest, they say, is history.
This article is based in large part on my experience as a MATE coach, mentor and competition judge, as well as our interviews with several other ROV coaches and mentors. Blue Robotics also supports several other educational programs and competitions that you can check out!
Ultimately, our goal is to encourage you to start up a robotics club in your community and help some kids get a major jump start on their college and professional lives. You'll be helping produce the next generation of engineers, and you will benefit personally as you watch the kids grow and succeed.
Here are nine steps to consider in setting up an underwater robotics club:
Find a good coach/mentor
Set up a shop
Find some water
Recruit a team
Use the resources
Start meeting and building
Raise some money
Get out of the way
Keep it going
Step 1: Find a good coach/mentor (it may be you)
To be a coach and mentor, you don't have to be an engineer or have any experience with robotics, but it's good if you have some basic technical skills. A mentor can be a parent, alumni, or an interested community member. If you're trying to start up a club in a school, the science or math teacher might be a good candidate, but even a student could do the job. The competition programs provide a lot of educational materials that make it pretty easy to mentor a team, and you can always call in others with deeper skills in areas where the kids need more than you can give.
In my case, I am a business operations guy with some technical aptitude. I've always enjoyed electronics, automotive mechanics, and home technology. When I was a kid, my dad taught me how to fix bicycles, cars, our house, etc. If you don't have any of these skills, you can make up for it with a high level of curiosity and enthusiasm.
Step 2: Set up a shop
You can start an ROV club anywhere, but it's better to have a little shop space and some basic tools (power drill, vise, soldering iron, assorted hand tools). More advanced teams use computer aided design (CAD) and 3D printers or routing machines to make parts and mission tools. These services can be outsourced to third party companies if you don't have access.
If your school doesn't already have a dedicated robotics lab, you may need to use a science lab. Be sure to plan for the storage of tools, parts & materials, and eventually, the ROV. One coach/mentor used the public library for team meetings. Like me, you can do it in a private garage if you don't have access to a public or private facility (and you're willing to let your car sit outside for a couple months).
Step 3: Find some water
It's critical to have access to a pool for ROV testing and practice runs. It can be small (even a hot tub can work), but it's better to have enough space to set up a test course and practice mission tasks. You may want to recruit a team member who has access to a pool. Other possibilities include gyms, clubs, hotels and public community pools. Worst case, you can test in public waters (rivers, lakes or the ocean) in calm and clear conditions.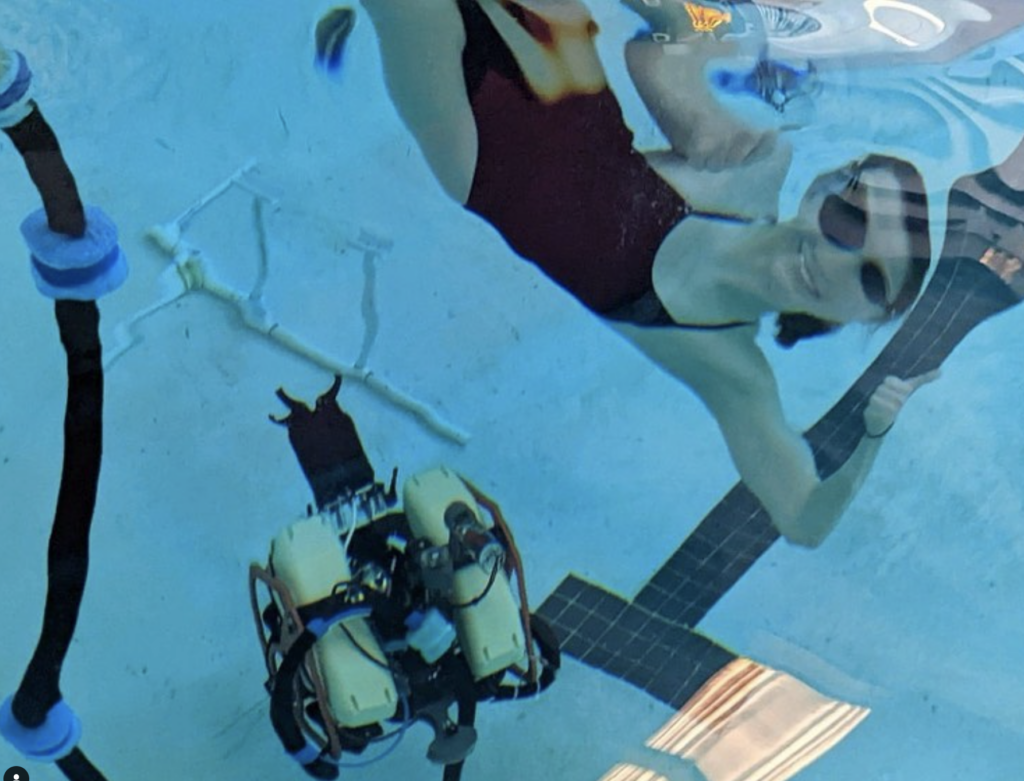 Step 4: Recruit a team
We'd suggest starting with a small core team of four to five members. You'll need a variety of skill sets depending on the class you compete in, starting with piloting, electrical, mechanical, and integration of all the components. In the more advanced competition classes, teams are using computer-aided design (CAD) to create custom parts. The more advanced teams are coding (writing software for) their ROV's control and communications systems. Teams score bonus points for marketing themselves in their communities and on social media, doing their own fundraising, and accounting for all their income and expenses.
If you're starting a school club, you may need to accommodate a larger group of students. With a bigger team you can assign subteams to work on the different elements of the competition (ROV building & operation, technical paper, engineering presentation, marketing poster, fund raising).
One benefit of starting an independent club is that you can be more selective in choosing team members. Look for kids that are really interested and motivated (not just resume builders). My first team was a foursome in Cub Scouts who went to different schools. When my ace pilot dropped out of Scouts, we formed the independent "Hwy. 68 ROV Club" so we could continue to recruit team members from different middle schools and high schools.
Step 5: Use the resources
There are resources available that provide everything you need to build an ROV, including great educational tools to facilitate teaching the basics, so as a coach/mentor you have access to everything you need. There are educational presentations on electronics, building control boxes, buoyancy, etc., and kits available for purchase to build basic vehicles. There is also a comprehensive book titled Underwater Robotics: Science, Design & Fabrication which covers a wide range of ROV/AUV topics and knowledge levels from beginner to advanced.
Each year the various competition programs publish new competition themes, mission tasks, scoring rubrics, and rules. The missions will determine some design aspects of the vehicle, especially the tools and sensors needed on the ROV to complete the tasks and score points. The scoring rubrics are very helpful to the students for writing the technical report and giving the engineering presentation.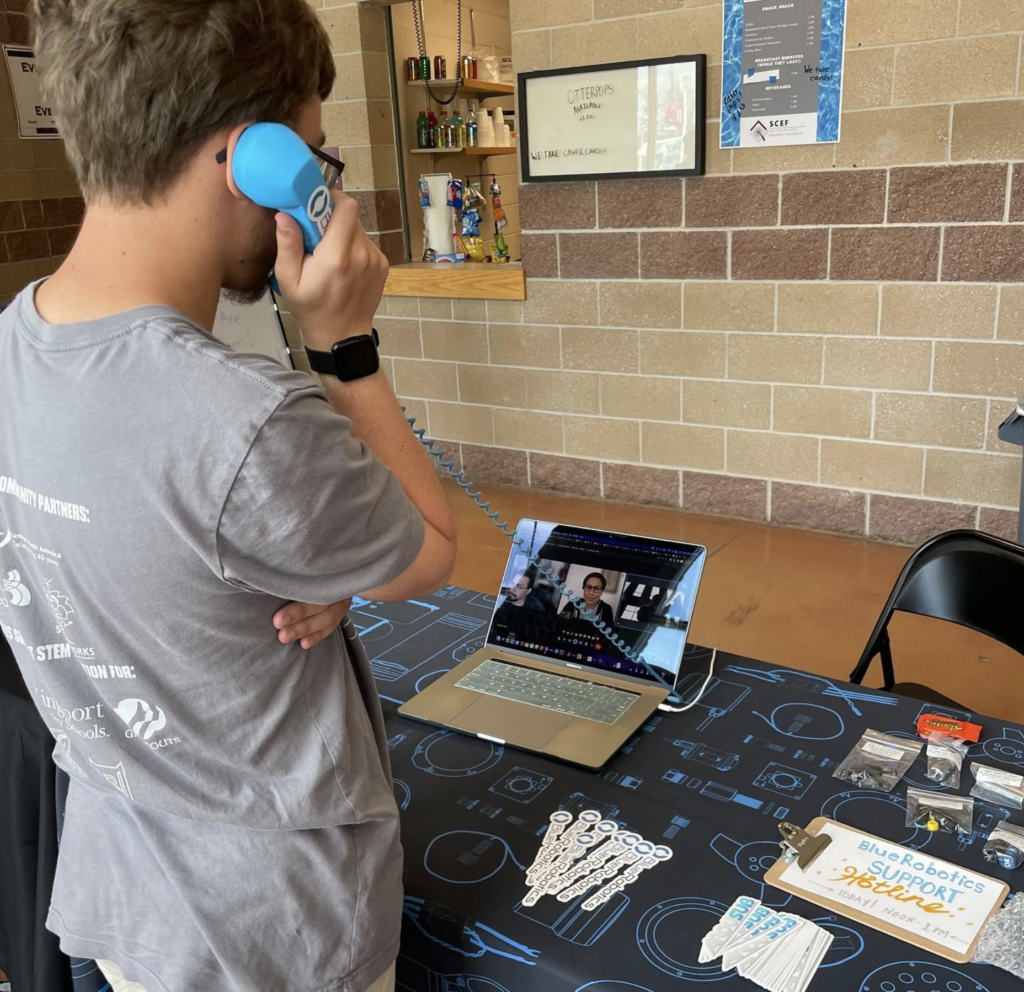 Step 6: Start meeting and building
Teams can start meeting in the fall after school, once a week or every couple weeks. Kick off the season with a meeting that includes the parents and review the whole program, so the kids understand the big picture and the parents know what to expect and can support their kids and help them in their roles.
Once MATE releases the mission specifications, the team may want to increase its meeting frequency to two or three days a week after school and as the competition nears there will be some time on the weekends.
Step 7: Raise some money
You can fund a team in the "Navigator" class for $500 – $1,000 (including a MATE kit and parts needed to build the ROV). If the parents can kick in, you'll get a quicker start. My team started each season with fundraising, preparing a presentation and pitching to local businesses and clubs (Rotary) for support. We sold tickets and held a BBQ dinner. We held a raffle and auction. One year we had a major donor and we raised a total of $22,000, which funded the development of the ROV, a new 3D printer, and all of our travel expenses to the International championship in St. Johns, NewFoundland.
Step 8: Stay out of the way
One of the hardest things for parents is to NOT give the kids the answers. I really enjoyed teaching the kids about basic electronics, how to solder, use of hand and power tools, and measuring and cutting PVC pipe. I taught them the design-build process and I coached them on problem solving using root cause analysis. With those tools, if they are left to solve problems on their own, they'll get better at it and that's an important skill to have in the competition. It can be really hard to let them do that on their own, but you can facilitate the process by asking them leading questions.
Step 9: Keep it going
Teams take time to become effective, so it is advantageous to keep a core group together, and grow institutional knowledge over several years. Our team stayed together for seven years and they finished second at the International Championships in both Ranger and Explorer classes.
Just like in athletics, you need to keep recruiting new students toward the younger end, so they can build their knowledge and become the experts when they hit graduation age.
Conclusions
Becoming an ROV coach/mentor has been one of the most fun and rewarding experiences I've been fortunate to have in my life. We just got back from the MATE International Championships in Longmont, Colorado (Blue Robotics is a Gold Sponsor) and I am so inspired by these kids that I am contemplating relaunching the Hwy. 68 ROV Club and starting a new team!
With a modest investment in time, you can have a big impact on helping kids become successful, productive, and happy human beings. You'll be helping to fill critical job roles in the growing tech economy. And you'll have a lot of fun in the process.
---