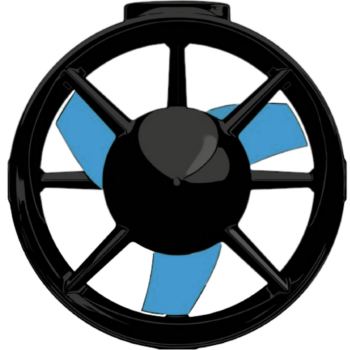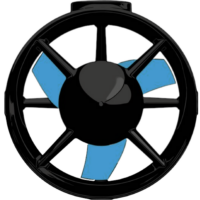 No, we're not heading to the Crossfit Games, we're talkin' about a different type of movement here. We're moving things in water, so we're taking "thruster" back.
An underwater thruster is a propulsion device that combines a propeller with electric motor. It's mounted on an underwater robot for propulsion and control. Thrusters are commonly used on Remotely Operated Underwater Vehicles (ROVs), Autonomous Underwater Vehicles (AUVs), and Uncrewed Surface Vessels (USVs).
Here at Blue Robotics, we make the most popular underwater thrusters in the world, the T200 and T500 Thrusters.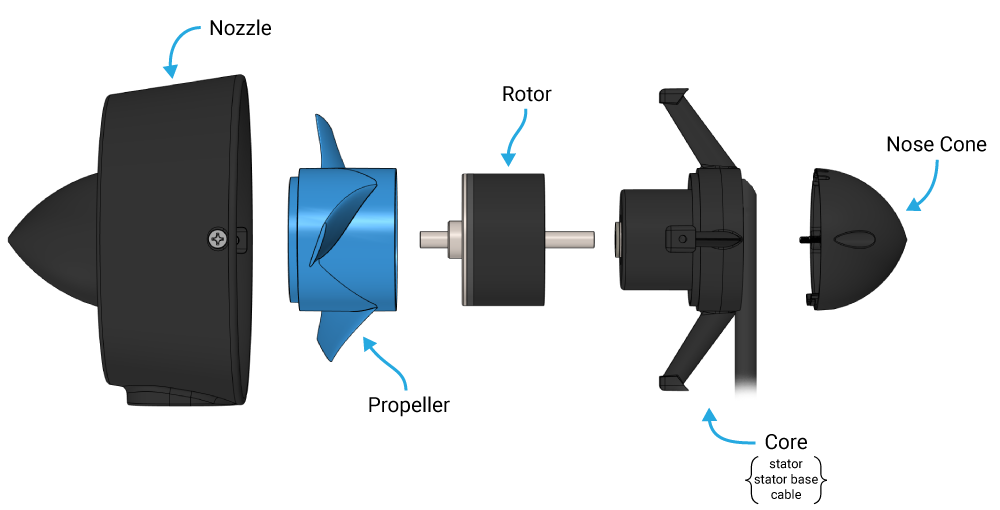 T200 Thruster uses our patented underwater thruster design consisting of a fully-flooded brushless motor with encapsulated motor windings and stator as well as coated magnets and rotor. The thruster body and propeller are made from tough polycarbonate plastic and the only exposed metal components are made from marine grade 316 stainless steel.
It's easy to use and generates over 5 kgf of thrust, enough to propel a wide array of marine vehicles. Since it's release in 2014, it's become the most popular underwater thruster in the world.


The T500 Thruster is our next-generation underwater thruster with three times more thrust than the T200 Thruster. With a 24V / 43.5A power rating, high efficiency, and ruggedized design, it is an ideal choice for high-power ROVs, surface vessels, AUVs, and more!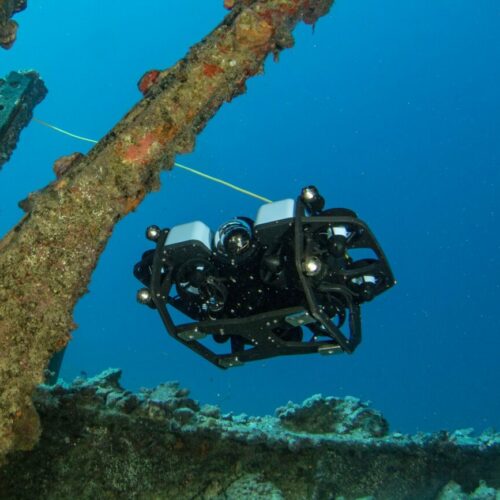 The T200 Thruster is used on a number of underwater ROVs, AUVs, and underwater drones including our flagship underwater ROV, the BlueROV2. The thrusters provide compact but powerful underwater propulsion on the ROV.
The BlueROV2 uses the patented T200 Thrusters in a vectored configuration, providing a high thrust-to-weight ratio and the ability to move precisely in any direction. The ROV comes with six thrusters but is expandable to eight thrusters with the Heavy Configuration Retrofit Kit, providing full six-degree-of-freedom control and feedback stability.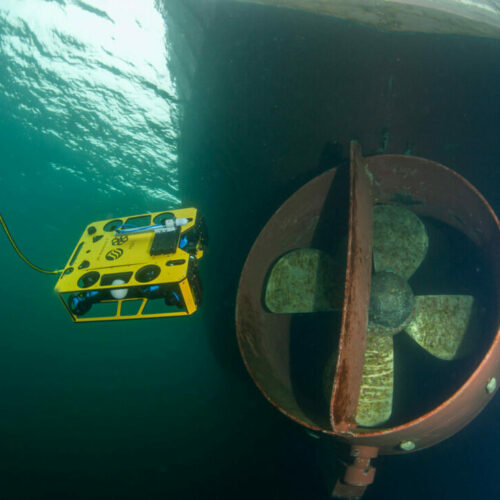 Many companies are utilizing Blue Robotics thrusters in their vehicles! One of our Distributors, JM Robotics, has developed the JM-HD3 using T500 Thrusters. The HD3 is used by oil and gas companies, such as Chevron to perform subsea inspections.
Outland Technology has also developed an ROV using T500 Thrusters.
The ROV-3000 is intentionally designed for ease of use and ruggedness, its features include a 600 meter depth rating, auto depth, auto heading, auto pitch, and tool-free maintenance. Options include sonar packages, DVL station keeping, a single function and/or two function manipulator, cleaning brush tool, skid packages, and more.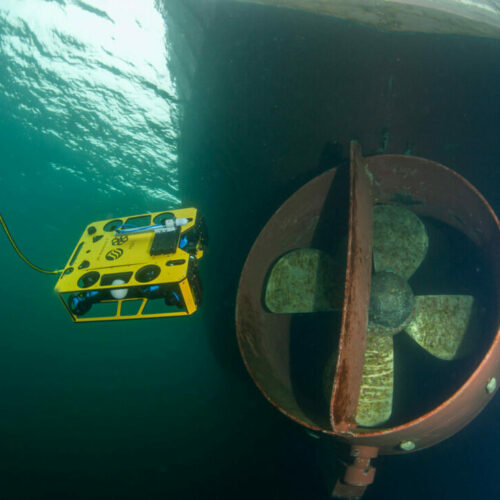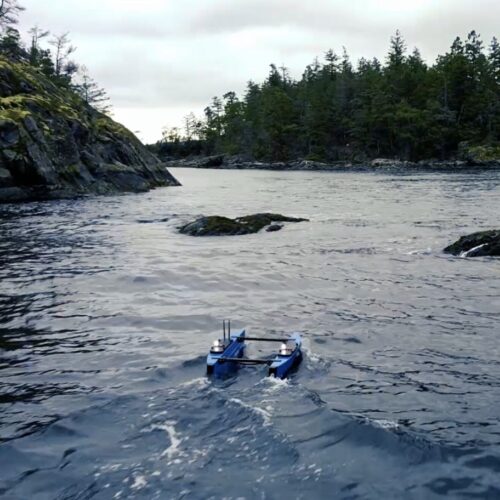 Propulsion isn't all about thrusters, we also have vehicles running on motors, like our M200 Motor! The M200 Motor is a subsea motor designed to run in harsh ocean conditions. It has the same performance as the T200 Thruster, but without a nozzle, making it perfect for use on USVs (like the BlueBoat), AUVs, and more!
Our BlueBoat's unique deep hull shape pushes weeds and debris down and out of the way. Anything that isn't pushed down is brushed away by highly swept weedless propellers driven by two M200 Motors.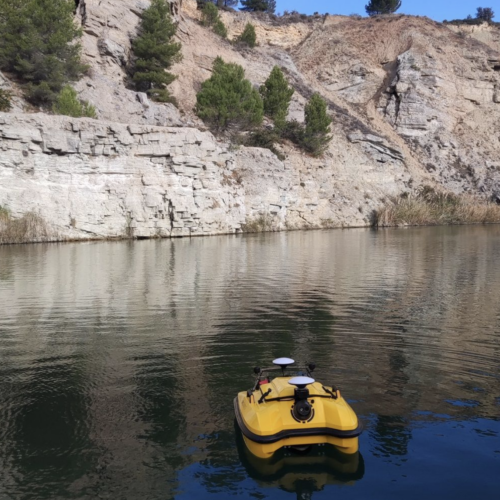 ROVs aren't the only place thrusters are being used! GPA Seabots utilizes T200 Thrusters in their SB100 Pro.This USV is a compact and versatile marine robotic data collection platform that is ready to work right out of the box with easy deployment and high capacity to add any type of sensor.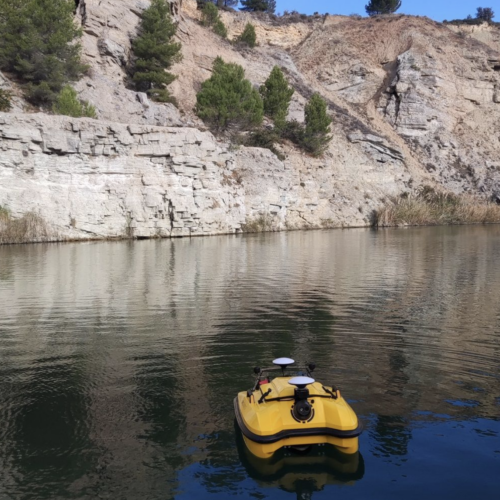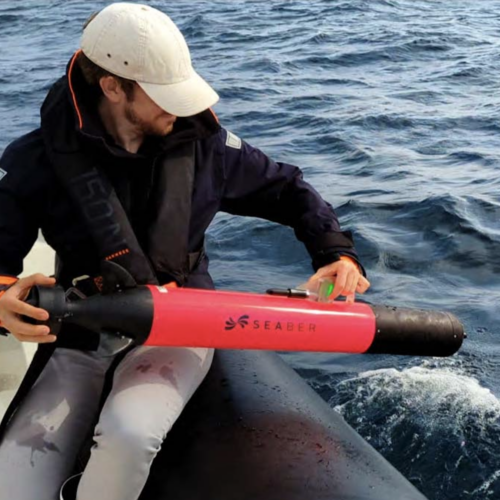 Seaber's micro-AUV, YUCO, is equipped with a T200 Thruster to create a uniquely reliable tool combining exceptional performances and low maintenance. YUCO is operable in all types of coastal waters for applications ranging from coastal monitoring to aquaculture to search and rescue.