BlueROV2 Buyer's Guide by Options
Introduction
Since its debut in 2016, the BlueROV2 has proven itself to be a capable ROV. Because of its reasonable price point and thorough documentation, it has been used by hobbyists, academia, light and heavy commercial entities, and government organizations. Its open and flexible hardware and software design has encouraged customers to start with the basic BlueROV2 design and add accessories or make modifications for their application.
If you are new to ROVs, we have a quick guide to get you up to speed!
The BlueROV2 comes partially assembled and requires six to eight hours of user assembly to complete. During the assembly process, you will learn how all of the components of the system fit together and you will build the knowledge needed to make upgrades and improvements in the future.
One important aspect of the BlueROV2 that sets it apart from traditional observation-class ROVs is that the user can start with a basic vehicle and then add accessories later as needed. You are not locked into one configuration at the time of purchase. Accessories can be removed and replaced with hand tools. Updated components can be installed and changed out as they become available. A full history of updates to the BlueROV2 can be found under the "Technical Details" section of the Product page in the "Revision History" subheading.
This guide provides an overview of the available options when configuring your BlueROV2 package. If you have a requirement for a piece of equipment we do not carry, you may wish to reach out to our distributors who carry many of these other items and offer customization, build, and maintenance services for BlueROV2s.
If you work in a specific industry, then we have an additional guide with our equipment recommendations for different applications: BlueROV2 Buyer's Guide by Application
What's included in the BlueROV2 base package
The BlueROV2 comes partially assembled with the electronics and watertight enclosures tested. Assembly takes approximately six to eight hours with hand tools. After assembly, the major components will be as follows:
1 x BlueROV2 (as configured). The base package does not include a tether or lights, these need to be configured from the available options.
1 x Fathom-X Tether Interface (FXTI). This is the interface box you will use to connect the tether to your computer.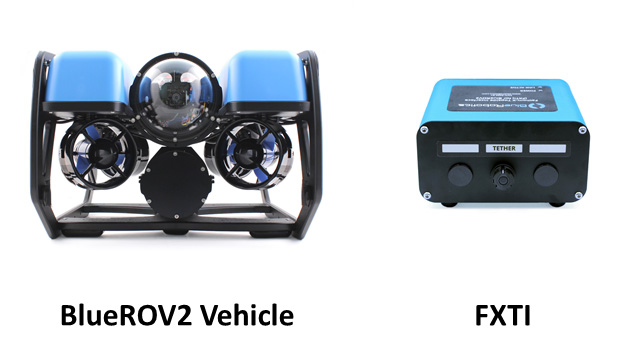 A complete list of what is included in the BlueROV2 base package can be found in the "Contents" section of the product page. To find a specific component, you may have to click through the available subassembly product pages.
What's not included with the BlueROV2 base package but required for operation
These are the items that are required for operation but are not included in the base package:
A tether. You must select a tether from the available options to add to the base package.
A 4S (14.8 V) battery. Because of shipping restrictions, a battery cannot be included in the base package add-ons and you will need to add it to your cart separately. Be aware that we cannot ship our batteries to all countries. Our BlueROV2 compatible batteries are listed below:
A battery charger, such as our H6 PRO Lithium Battery Charger.
A Laptop or computer. The topside control software, QGroundControl, is compatible with Windows (10 and up), macOS, and Linux. Android or iOS tablets are not recommended. You can view the minimum system requirements in the BlueROV2 technical details.
A gamepad controller. The Xbox Wireless Controller can be added as an option to the base package but many other gamepad controllers are also compatible.
Configuring your BlueROV2 Package
This section will walk you through the available options and add-ons when configuring your BlueROV2 package from the BlueROV2 product page.
Base Package Tube Configuration
The first option available is the tube material that is included in the BlueROV2 base package. The material of the tube determines the depth rating of the BlueROV2. The acrylic option is depth rated to 100 meters and the aluminum option is depth rated to 300 meters.
Heavy Configuration Add-on
The BlueROV2 Heavy Configuration Retrofit Kit can be added to enable 6 degree-of-freedom control and active pitch and roll stabilization, increasing the maneuverability and stability of your BlueROV2. This kit adds two more vertical thrusters and moves all vertical thrusters to the outside of the ROV frame. Additional buoyancy foam blocks and fairings are included to retain the right amount of buoyancy.
The Heavy Configuration does not increase the horizontal speed of the BlueROV2, but it does double the thrust in the vertical direction. This is especially useful for use grabbing objects with the Newton Subsea Gripper. The BlueROV2 Heavy Configuration Retrofit Kit is recommended when accessories like sonars or manipulators are installed.
Tether
Radio waves don't travel far through water and acoustic modems have limited bandwidth, so a tether is a required component to connect the vehicle to a surface computer.
The standard 4-twisted pair ether is the default tether for the BlueROV2 because it has the longest communications distance and the greatest flexibility for future accessories. With the utilization of the Fathom-X Tether Interface Board, Ethernet data carrying telemetry and video is transmitted using only one twisted pair of wires. The other twisted pairs (green, brown, orange) are open for expansion. The standard 4-twisted pair tether is available in lengths of 25 to 300 meters. We recommend this tether for most users.
The slim 1-twisted pair tether is an alternate tether option. This tether has only one pair of wires (blue and blue/white) so it still allows for full BlueROV2 communications but lacks additional twisted wire pairs for future expansion. This tether is best used when tether drag or weight is a concern. The 1-twisted pair tether is available in lengths of 50 to 200 meters.
Do not add a tether to your package if you are using the Outland Technology Power Supply.
Lights
The Lights selection is the next selectable option on the BlueROV2 product page. The options are:
No Lights
2 Lights (1 Pair)
4 Lights (2 Pairs)
We generally recommend the 2-light option, which is suitable for most applications. If you're operating in good lighting conditions and shallow water, lights may be unnecessary. If you're operating at night or in low-light conditions, the 4-light option may be best. If you're not sure, you can always add a set of lights later.
Tether Spool
Many people choose to manage the tether without a spool, but it's a very useful accessory for the BlueROV2. The Fathom Spool simplifies the storage and tether management of the vehicle and significantly decreases the amount of work the operator must do. If you are getting a tether longer than 50 meters, we recommend getting a tether spool.
There are two sizes of tether reel available, standard and large. The standard size spool can hold up to 150 meters of the 4-twisted pair tether and 200 meters of the 1-twisted pair tether. Use the large size spool for 4-twisted pair tethers longer than 150 meters.
The spool is not compatible with the high-power cable used for the Outland Technology Power Supply.
Gripper
The BlueROV2 can be outfitted with a gripper (manipulator). A gripper is a useful tool for picking up small objects, attaching recovery lines, or freeing a snagged tether. Installing the BlueROV2 Heavy Configuration Retrofit Kit in addition to the Newton Subsea Gripper allows for the BlueROV2 to pitch forward and hold its angle while maneuvering to pick up objects on the sea floor.
Scanning Imaging Sonar
Sometimes water conditions don't allow for great visibility. So, if you think you will be operating in limited visibility, it is recommended to install an imaging sonar.
One of the most useful types of sonars on an ROV is what is known as a mechanically scanning sonar. Scanning sonars are useful tools for navigation, and acoustically imaging targets in a top-down 2-dimensional representation. If you are new to scanning sonars, we have a guide that explains the key concepts of using a scanning sonar: Understanding and Using Scanning Sonars.
Xbox Controller
A handheld gamepad controller is required to operate the BlueROV2. The Xbox Controller is our preferred controller so it's available as an add-on option. The topside software, QGroundControl, is compatible with many other common controllers so you can use a different controller if you have a favorite. The Logitech F310 is also a good, inexpensive alternative.
Next Steps
After you have configured your BlueROV2 package, you will also need to add a battery. The next section explains the power options available to you.
Power Options
The BlueROV2 comes configured for battery power by default, but there is an option to upgrade to a high-voltage topside power supply without batteries.
Battery Power
An onboard battery is the default method for powering the BlueROV2 because it is safe and provides a very portable system that does not require a generator or a wall outlet. High-capacity batteries are affordable and have a high discharge capacity allowing for quick bursts of speed if needed. We have a couple of battery options available:
Blue Robotics Lithium-ion Battery (14.8V, 15.6Ah). This is our highest amp-hour capacity battery for the longest runtime. This high capacity means that it's prohibited from taking onto airplanes, so keep that in mind if you plan to fly with your BlueROV2.
Blue Robotics Lithium-ion Battery (14.8V, 10Ah). This battery option has a lower capacity meaning it has a shorter runtime than our 15.6Ah battery. The great thing about this battery however is that it is suitable for travel on passenger aircraft! This option is great if you need a more affordable battery or frequently need to fly with your BlueROV2.
The especially high capacity of our batteries means that they are subject to more stringent shipping regulations than our other products and can only be shipped to a small number of countries. If we cannot ship batteries to your country, please see the Finding an Alternative Battery section below for some advice on sourcing a battery.
In addition to a battery, you will also need a battery charger such as our H6 Pro Lithium Battery Charger.
An optional, but useful, accessory to have is the Battery Cell Checker. It allows you to quickly check the charge on your batteries before plugging them into your BlueROV2.
High Voltage Power Supply
For those users who need to be able to run all day without changing out batteries, Blue Robotics has partnered with Outland Technology to provide the Outland Technology Power Supply (OTPS) for the BlueROV2. This system operates from 100-240VAC power source such as a wall outlet or generator, but enables indefinite run times.
The OTPS requires a specially designed high-power tether. If you planning to use the OTPS to power your BlueROV2, do not add the Fathom Tether to your package. The Tether Spool is also not compatible with the OTPS system.
Finding An Alternative Battery
If we are unable to ship a battery to your country, many of our distributors also stock and sell compatible batteries. Please check out our full Distributor Map for a list of distributors that sell batteries.
The BlueROV2 is compatible with many off-the-shelf LiPo batteries. If you plan on sourcing an alternative battery, it should have the following specifications:
4S (14.8V nominal) lithium-ion or lithium polymer battery
Rated for at least 60A continuous discharge, 120A burst discharge
At least 10 Ah is recommended (greater Ah capacity provides longer runtime)
XT90 or XT90S connector (or use an adapter)
Width and height must fit within a circle 74 mm in diameter
Length must be less than 200 mm
These batteries are examples of good alternatives:
Other Accessories and Spares
BlueROV2 Spares Kit
This kit contains a number of spare parts that are nice to have on hand for the BlueROV2. The contents of this kit are based on our own experiences and should provide you with most replacements you might need out in the field including consumables such as O-rings, grease, and zip ties.
Payload Skid
The Payload Skid is a modular frame for the BlueROV2 with mounting points for additional watertight enclosures and lights. Using the Payload Skid, you can add additional large instruments and other equipment to your BlueROV2.
Altimeter and Echosounder
Another useful type of sonar is an echosounder, also known as an altimeter when installed on an ROV. An altimeter is a single-beam sonar that gets a range measurement from the bottom of the ROV to the seabed. This is useful in low-visibility situations where the distance to the bottom is unknown.
In addition to getting a distance reading, echosounders can provide the full echo response (echo strength versus time) which can be plotted like the display of a fishfinder sonar, which is useful for locating targets or obstructions beneath the ROV.
Further Resources and Inspiration
Other Components in the Blue Robotics Online Store
The options listed above only explain the components that were either designed for or integrate easily with the BlueROV2. The Blue Robotics Online Store has over 200 other components for helping to build what you want. Some components can be easily added, but others will need modifications.
Blue Robotics Forums
The Blue Robotics Forums are a great resource to see how others in the undersea community have approached specific problems. The Builds and Mods category is a good area to look in for additional inspiration.
Modifications and Accessories from Distributors
Need an accessory or modification for your BlueROV2 that you know exists but we don't offer? Check out our worldwide Distributors List, many of whom offer services to modify your BlueROV2 for your requirements or have access to 3rd party accessories.
---