Hello everyone! It is with great excitement that we introduce a new concept and new products.
Today we're announcing a concept that we've been thinking about for years: the WetLink family of products. The WetLink family helps you connect electrical things underwater. It's starting off as a series of new penetrators and tools but we have big ideas for the future!
The WetLink Penetrator (WLP) is our patent-pending, next-generation solution for low-cost, high pressure, high reliability sealing of electrical cables as they pass into enclosures or other devices. It's rated to a depth of 950 meters (3,116 feet) and compared to other subsea connectors or penetrators, the WetLink Penetrator is a fraction of the cost while offering validated reliability that you can count on. It's easy to assemble and doesn't use any adhesives or potting!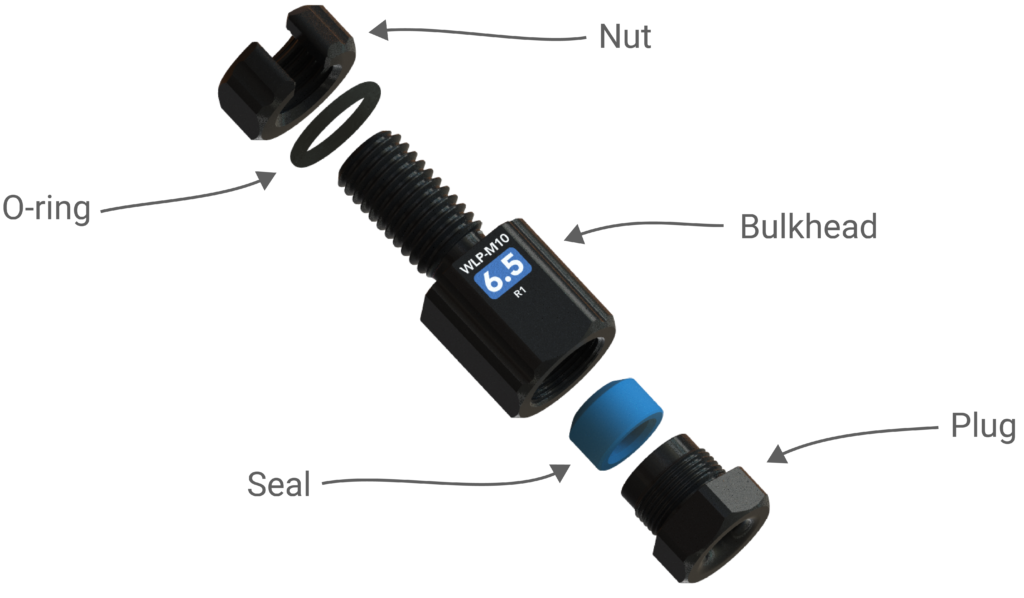 Today we are launching the 6.5mm WLP, which is designed for cables with a jacket diameter of 6.0-6.5mm, but we'll have many other sizes available in the future and we will eventually be using the WLP on all of our products that require a penetrator. This first size, the 6.5mm WLP, is used on our thruster cable and the T200 Thruster with Penetrator, which is part of the BlueROV2, now comes with the WLP installed and tested.
The WLP can also be purchased as a user-assembled kit with a price of $12 each for one and $10 each in a five-pack. Additional sizes will be available later this year.
We have put an enormous amount of time into this product, not just designing it, but learning about every aspect of it and testing it to ensure that it is absolutely trustworthy. Whether you're a casual hobbyist or the toughest industrial user, the thousands of hours of work on the design, lab testing, and field testing of this product have brought us to know that it's awesome.
In addition to the WetLink Penetrator, we have a few new tools that make it easy to put together the penetrator. The WetLink Penetrator Plug Wrench tightens the plug to compress the seal. It is compatible with a 1/4″ socket drive to work with available torque wrenches. The WetLink Penetrator Assembly Block holds the bulkhead of the penetrator while tightening and can be held in a vise or bolted to a fixture. These tools aren't necessary to assemble the penetrator, but they do make it a lot easier!
The WetLink Penetrator is now included and pre-assembled in the T200 Thruster with Penetrator, which is included in the BlueROV2, Heavy Retrofit Kit, and Spares Kit!
We are thrilled to be announcing the WetLink concept and the first WetLink product. We have big plans for the future of this product line and we are eager to see how you use it!