We know… we know! It's been a quiet few months since our last survey, but it's still useful to reflect on how far we've come in the last three years! Your feedback from 2018's survey played an important role in the growth and development of Blue Robotics, and we're excited to share some of these results! These surveys have been the catalyst for many of our recent developments and if you have a moment, we'd love to hear from you again for the 2021 survey !
Here are some of the most interesting results from 2018 and our earlier surveys.
Depth Rating
We're going deeper! There was a shift as a significant number of users moved from depths of 25-100m to depths of 100-300m depths and even to 300-1,000m. As our customers push the limits, we have to adapt, inspiring products like the WetLink Penetrator!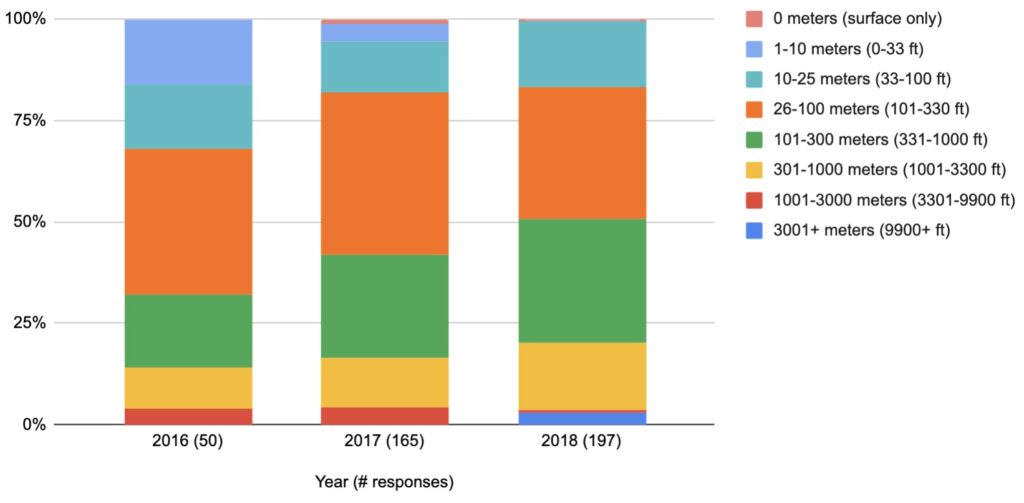 Applications
The results for applications is surprisingly similar to the results from 2016 and 2017, giving us a good idea of how you are using our components and the BlueROV2. You are documentary filmmakers, capturing rare footage of endangered species. You are inspecting river dams, exploring lakes, and documenting deep water ecosystems in support of their conservation and management. You are observing how nature interacts with its environment, from deep water corals on the west coast of Sweden to Galapagos Whaler sharks in Norfolk Island.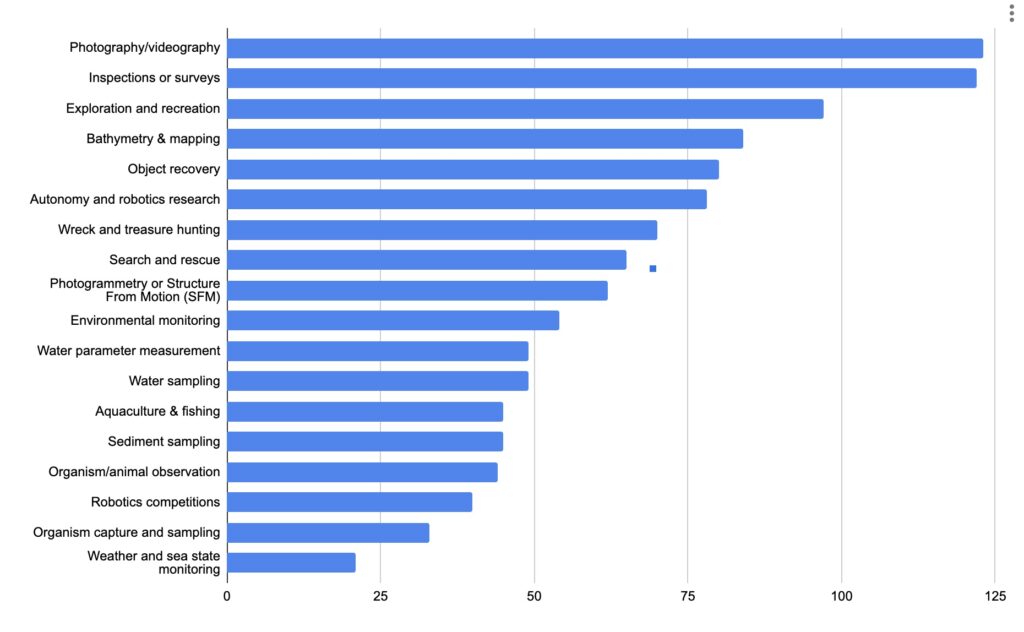 We would honestly be here all day if we listed each and every application we have come across, but we will let you fall down your own rabbit hole of unique and interesting marine robotics applications! Our video playlist of user videos is a nice place to start 😉
We were also curious about your overall impression of the BlueROV2 – as seen from the section above, you are using the BlueROV2 and components in ways we never could have imagined. The results imply that the BlueROV2 and components are equally suitable for academic, professional, and recreational use…and we're pretty sure these thruster powered swans could be categorized as all of the above. Have an application that is truly out there? Tell us about it!!!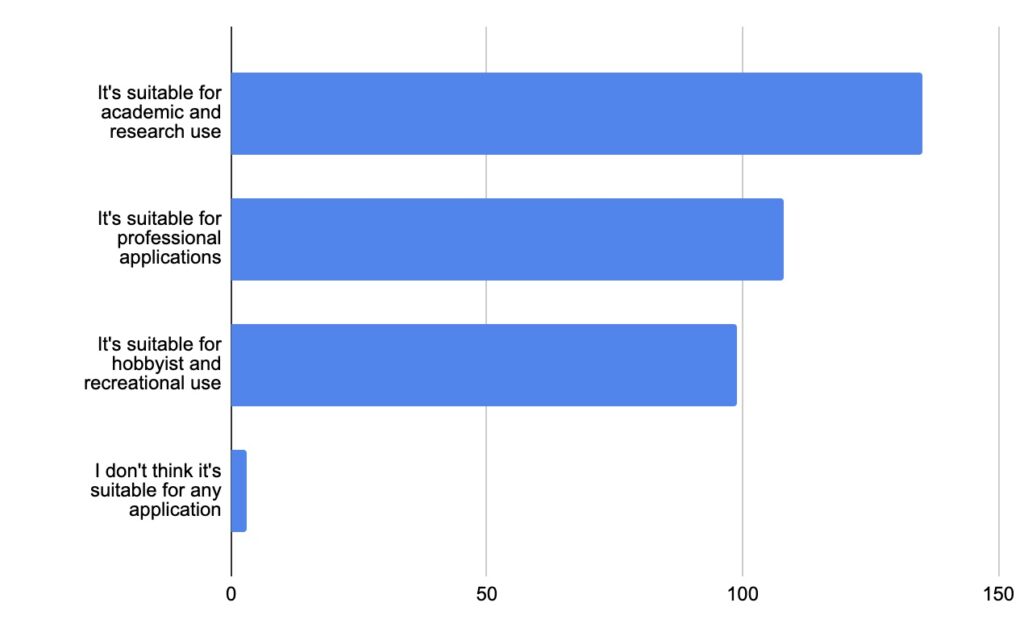 Mechanical Components, ROV Accessories, and ROV Features
In addition to launching the Fathom Spool, the FXTI, and the Outland Technology Power Supply, we've learned loads about the capabilities of our distributors around the world and how invaluable they are to the Blue Robotics ecosystem. Many of our partners have developed their own products including topside control units, power supplies, and cage cleaning tools. We've also seen a lot of innovation within the community, as you are making your own laser scalers, 360 cameras, propulsion systems, and more. We are in constant awe of the resourcefulness in this space and we look forward to the continued pushing of boundaries alongside our community!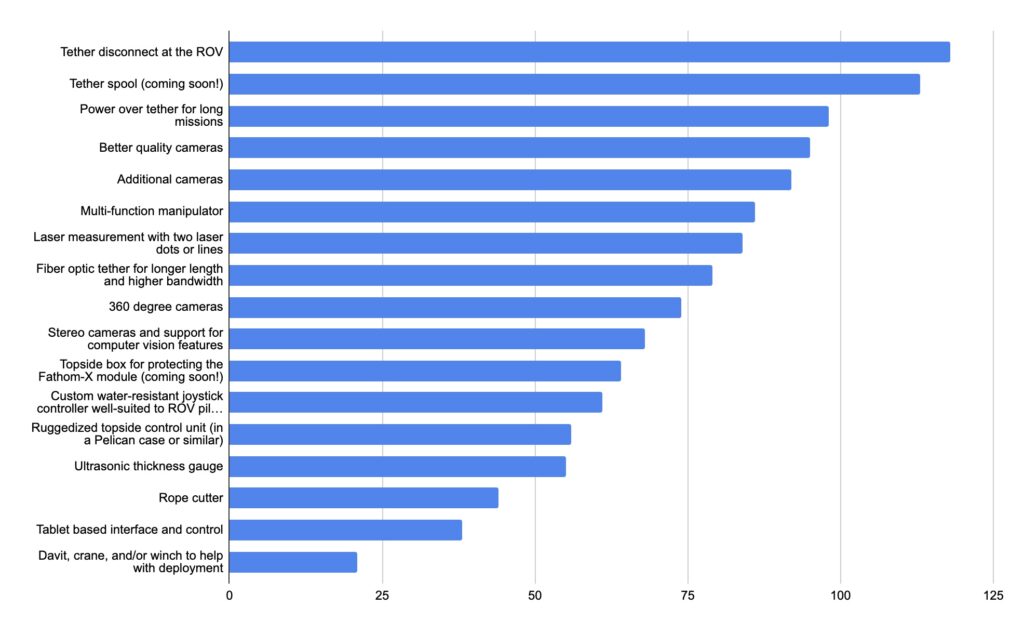 Our aim is to continually improve and innovate, and we can do that best with your help! We hope this information was interesting and informative and that it inspires you to take part in this year's survey!