We're often asked "How do I make the BlueROV2 run longer?" With the flexibility and modularity of the BlueROV2, there are quite a few ways to do this! In this article, we'll explore a few options available from our Distributor partners around the world to help you figure out which will work best for you.
We'll start off with two different products designed to eliminate the battery from the ROV by sending power down through the tether. We have a product at Blue Robotics for this, the Outland Technology Power Supply, but there are other products on the market that have different features and may be a good fit for your application!
Any power supply system for an ROV has to send power at a high voltage to allow enough power to be carried to the ROV. That creates safety concerns for the user, but both of the following options have put a special emphasis on safety.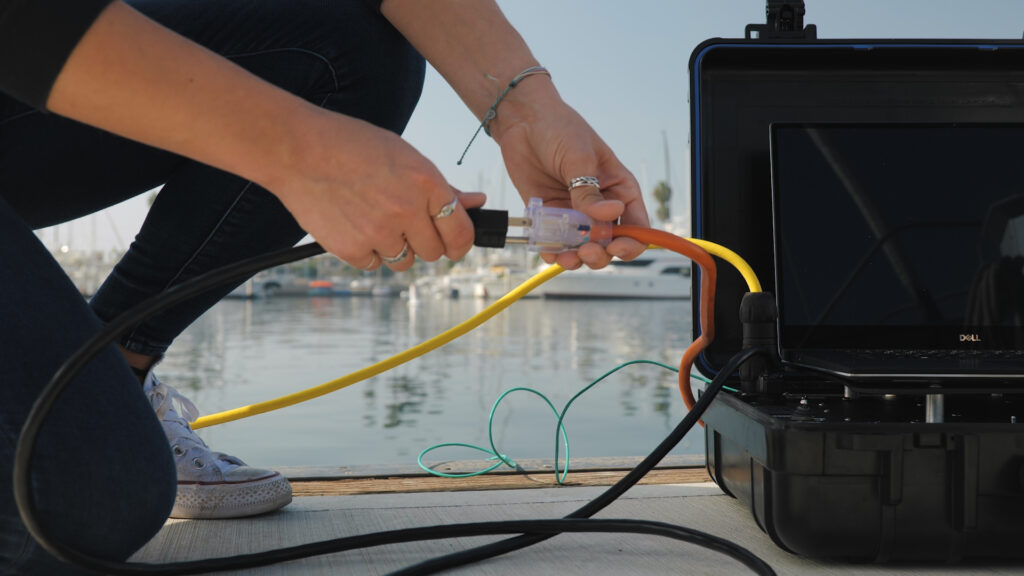 SPU-500 Surface Power Unit by BlueLink, LLC
One of our US-based Distributors located in San Diego designed the BlueLink Surface Power Unit. It is a drop-in upgrade for a standard Blue Robotics BlueROV2 and replaces the entire battery housing with a shorter and lighter unit.
The latest in high-reliability industrial power supply components are used in the subsea bottle and the 15VDC output is drop-in compatible with the existing ROV battery tube. A ruggedized SPU topside unit with industry-leading Megacon Line Isolation Monitor (LIM) and Ground Fault Circuit Interrupter (GFCI) combined with a shielded tether protect against the dangers of high voltage power around water.
The BlueLink system ships with a Subconn Mini 8-pin tether connector and wire mesh Kellems grip strain relief. The SPU case also includes a Fathom-X Interface Board pre-installed so that the FXTI does not need to be used to connect to the BlueROV2!
BlueLink also offers a High Voltage (400V) slip ring, which is a drop-in replacement for the Fathom Spools. It comes with the appropriate hardware to mount it to the spool in minutes and also comes standard with 8-pin DIY wetmate connectors made by Suburban Marine which can be terminated to a tether in 15 minutes or less! If a different connector is required, each end of the slip ring has 7/16th threads to be compatible with many subsea connectors.
For more detailed SPU specifications, check out BlueLink's datasheet!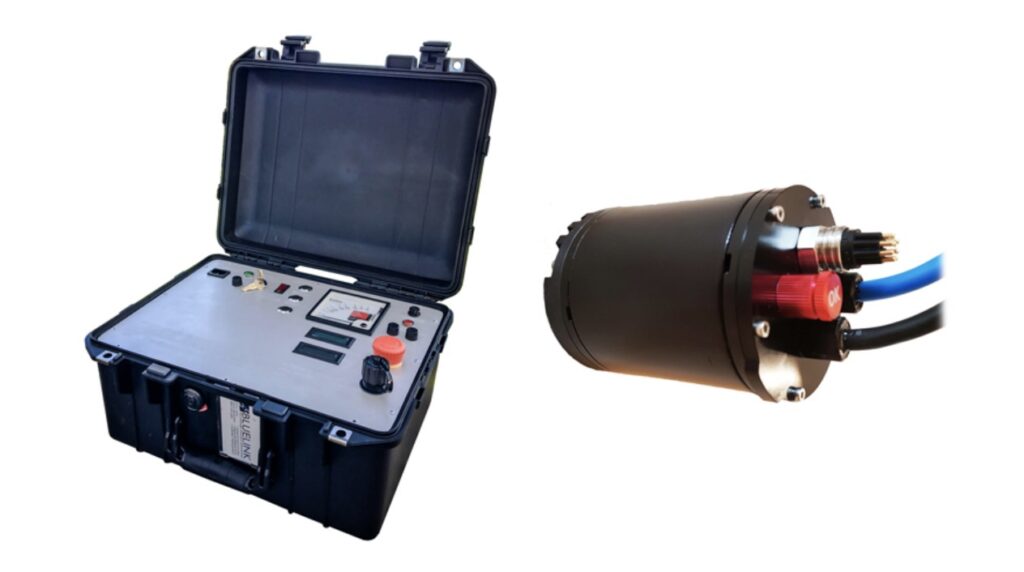 Surface Power Unit by Delta ROV
Another surface power unit is available from Delta ROV, our Distributor in the Phillippines. Similar to BlueLink, their unit also utilizes a line insulation monitor to notify users if the cable is damaged and to cut off power to the ROV if that happens. Delta ROV chose the ISOGEN423 insulation monitor from Bender, one of the most respected suppliers in this field.
They added on several other safety devices to protect the operator and equipment from harm, including a GFCI to protect the AC input, a surge protector, and an emergency stop button. The Delta ROV SPU is also capable of accommodating different power input requirements with a 110-220V selector switch to allow the system to be used by anyone around the world!
Interested in more details? Check out the product page!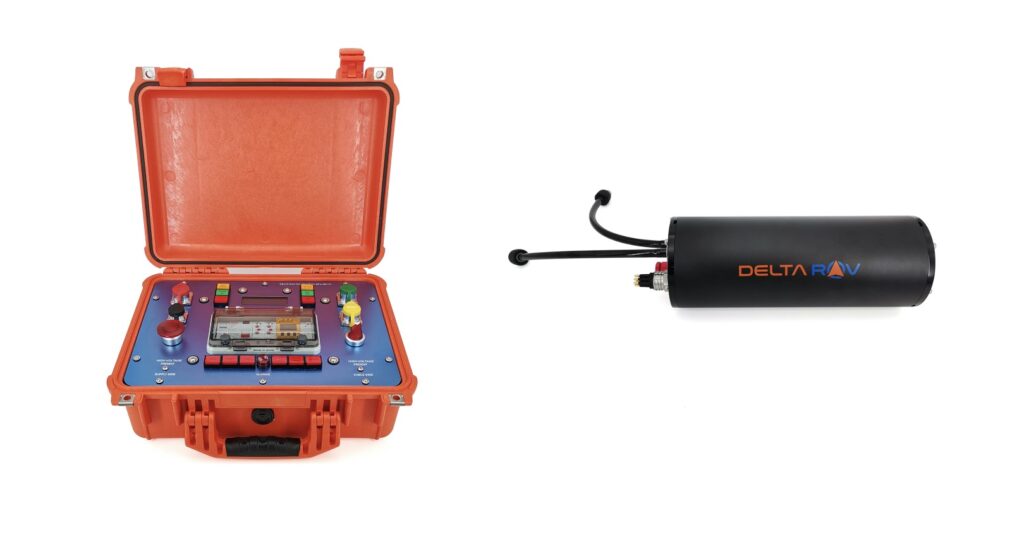 Power Upgrade Kit by SeaView Systems
SeaView Systems, another one of our US-based Distributors in Michigan, provides a different way to extend the dive time of the ROV. Their BlueROV2 Power Upgrade Kit includes everything you need (except batteries) to double the operating time between battery changeouts of your BlueROV2.
The Power Upgrade Kit comes with two Extended side panels for the BlueROV2 to accommodate the extra battery enclosure, a 3″ Acrylic battery enclosure, a 3″ Enclosure Clamp, an XT90 to 3.5 mm bullet connector adapter, two 25cm power cables with penetrators, four pieces of machined buoyancy foam, and SeaView Systems' MBM-150 Multi-Battery Manager.
The extended BlueROV2 side panels allow for mounting two 3″ battery enclosures with space for an additional 4″ enclosure in between if needed.
The MBM-150 Multi-Battery Manager allows multiple power sources to be safely connected in parallel. This can be used with multi-battery systems as well as hybrid systems with different types of power sources. Power is always drawn from the source or battery with the highest voltage.
To learn more about the SeaView Systems Power Upgrade Kit, check out their product page!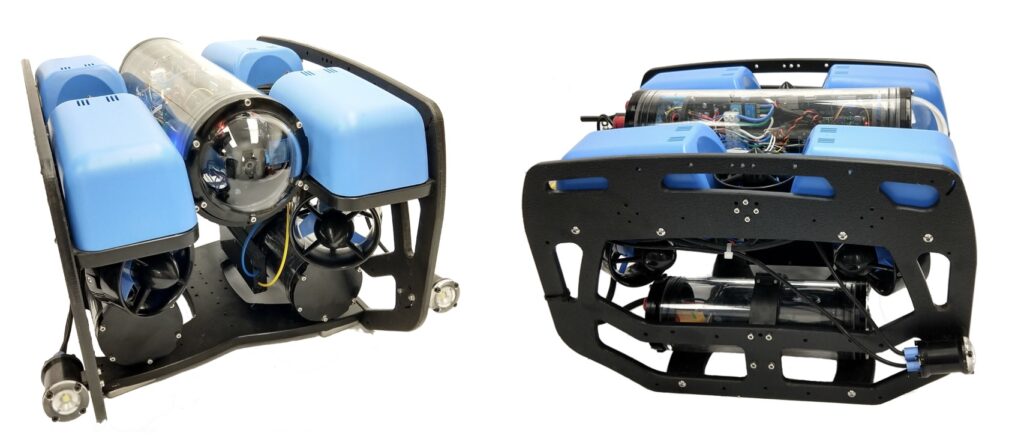 We love seeing our global partners' contributions to the Blue Robotics ecosystem and we especially appreciate any accessory that extends the runtime of the BlueROV2! Want to see more third-party products? Reach out on our forums and we can point you in the right direction!
Please note that Blue Robotics is not the manufacturer of the listed products and all inquiries should be directed to the appropriate distributor!