Hi friends! Today we are dazzled to announce an update of the Lumen Subsea Light. The improvements are pretty lit if we say so ourselves! Read more below!
Side note: If you're interested in having some input on our future products and developments, please make sure to take our 3rd Annual Product Interest Survey.
Check out the new Lumen!
Body and Lens
The most obvious update to the Lumen is the body and lens. The new design features aluminum screws to prevent galvanic corrosion, a thicker cable jacket less susceptible to nicks or holes, and a built in mount for convenient and secure attachment. The body is a little bit larger in diameter as well.

Wider Brightness Range and Better Low-Light Output
The first revision of the Lumen was configured to emit light ranging from about half brightness to full brightness. We've learned a lot since the release of the original Lumen, especially the fact that more light does not necessarily imply better lighting. The new lights have an exponential brightness curve and are capable of reaching a much lower brightness level to provide a wider dynamic range.
The image below shows a comparison between the old and new brightness ranges in illuminating a mooring at 60m water depth on a cloudy day.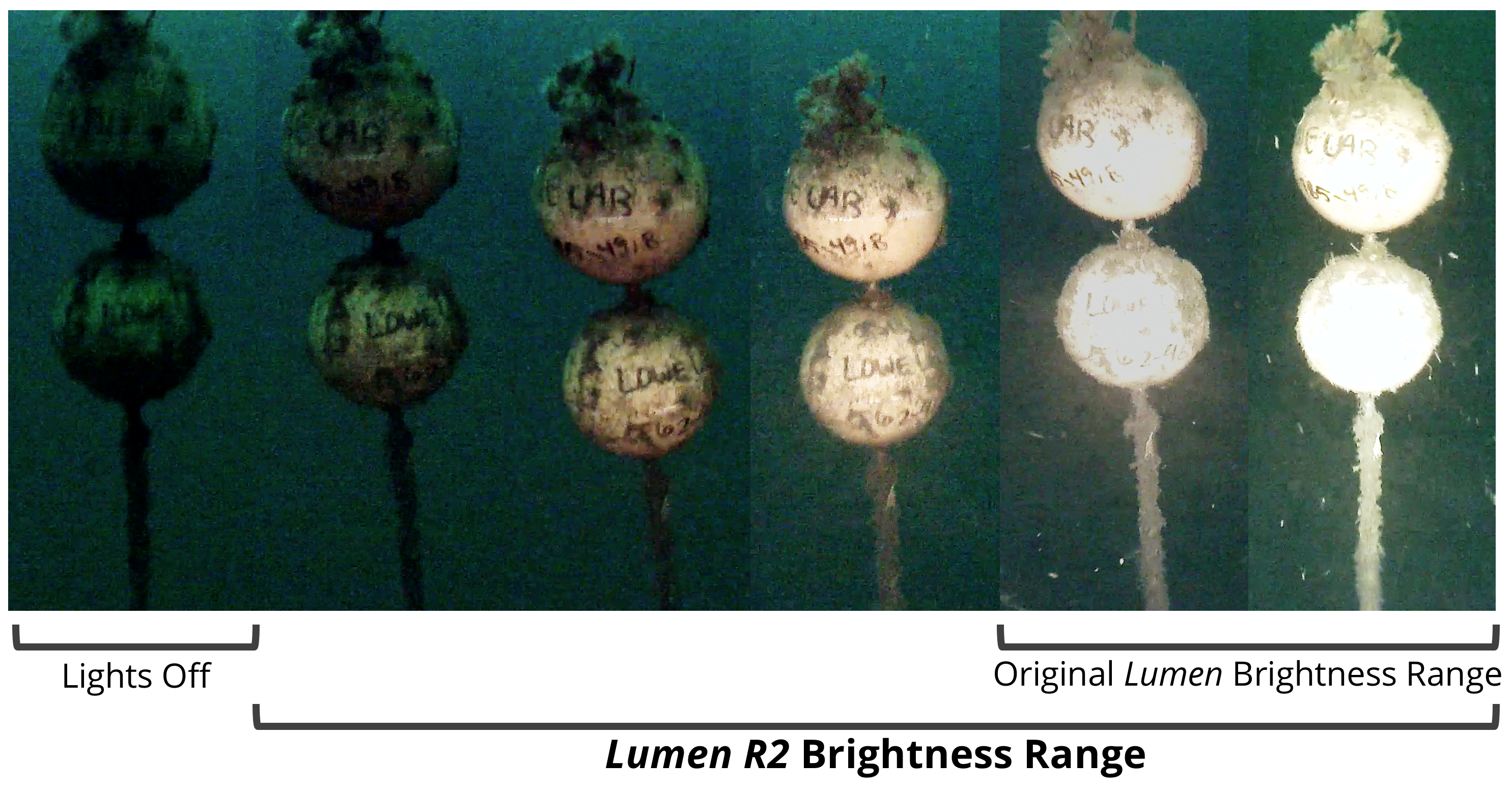 More Robust Sealing and 500m Depth Rating
Among the most important updates to the new Lumen R2 are a few upgrades to the seals. We've added an additional O-ring to the main enclosure, redesigned the cable penetrator, and switched to tougher cables that are more resistant to nicks and abrasion. With these changes, the depth rating of the new Lumen R2 is increased to 500 meters.

The new Lumen will be included with BlueROV2s, starting today, and is also upgradeable for existing BlueROV2s. The old version of the Lumen is now retired on our store but there are still a few in stock for anyone who prefers that version.