We apologize for the long delay since our last update but we promise that we have been working hard to get your thrusters to you as soon as possible!
Where are we at with that?
Well, there's good news and some bad news. Let's get the bad news out of the way first.
The Bad News
A few days ago we were notified by one of our suppliers that they are delayed an additional two weeks before they can ship our order. That's a bummer because we have everything else ready for assembly and the delay will push our delivery schedule back a few weeks.
Right now we are expecting to deliver the first batch of thrusters in the second half of November. This will only affect people who ordered thrusters with no speed controllers or with the Basic ESCs. Thrusters ordered with the BlueESC will not be affected.
The Good News
Fortunately, there's a lot more good news than bad news!
T-Shirts and Stickers for "Supporter" and "Founder" Reward Levels
Most T-shirts and stickers were shipped on Wednesday! Many of you have probably already received them. There are few people who haven't provided their shipping addresses yet and we will follow up with them directly through email. If you haven't responded to the survey please do so!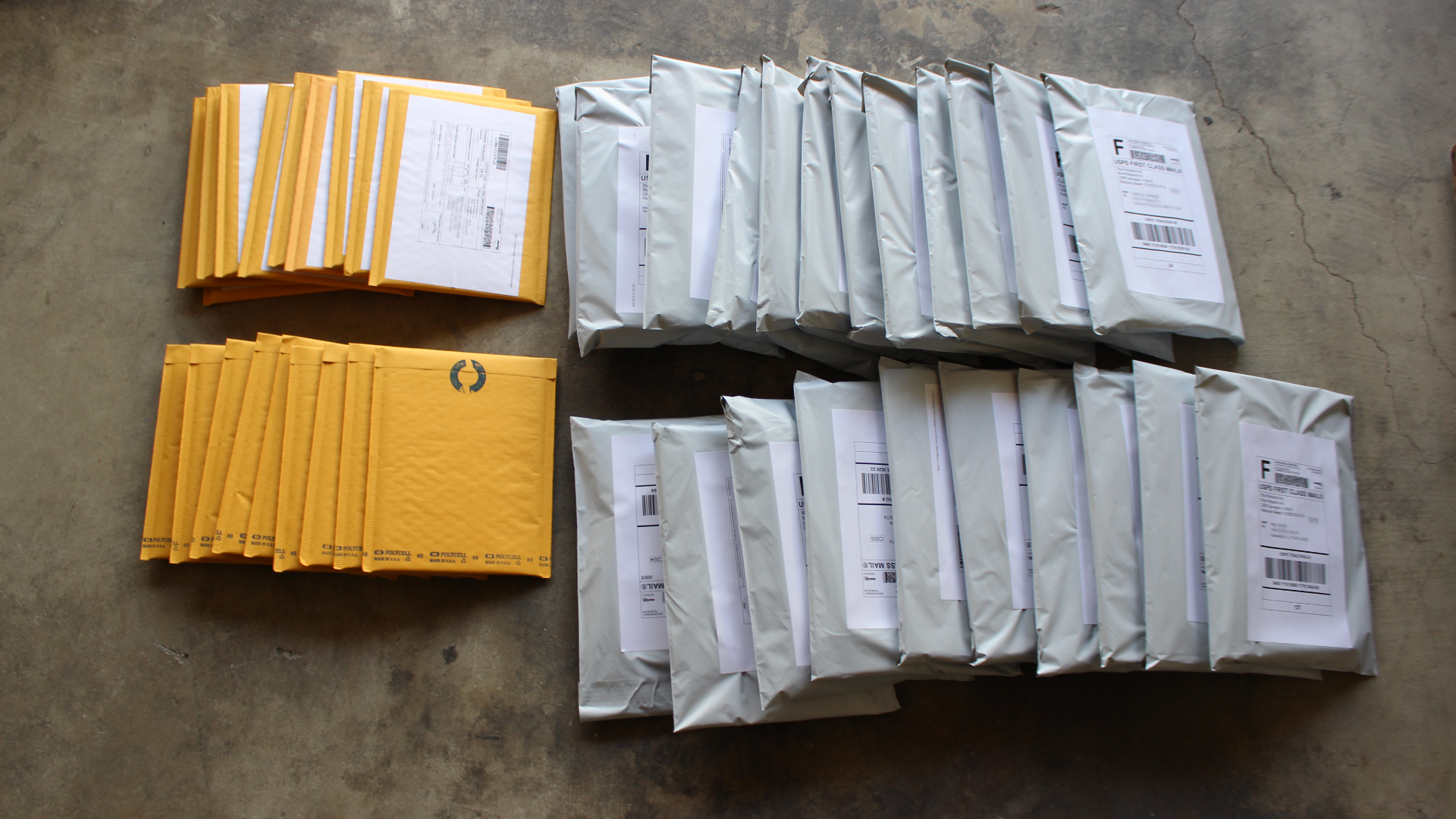 Static Thruster Testing at Depth
We were out in the Santa Monica Bay this week testing the SolarSurfer. While we were out there, we performed a static (unpowered) depth test of the thruster to determine if there would be any structural damage to the thruster at great depths. We lowered it to a depth of 800 ft (250 m) for a few minutes. There was no damage whatsoever and no change in performance after the test.
800 ft is really nothing compared to the full depth of the ocean. Fortunately, we are working with a testing facility to test the thruster to full ocean depth of 11 km. It will be a few months before we get the results but we are very excited to see what the thruster can do when pushed to the limits.
BlueESC
We now have a prototype of the BlueESC squeezed into the form factor necessary to mount in the front of the thrusters. And it works! It's got a few bugs to iron out, but nothing major. We've tested it to full load with the T100 and will test with the T200 prototypes in a week or two.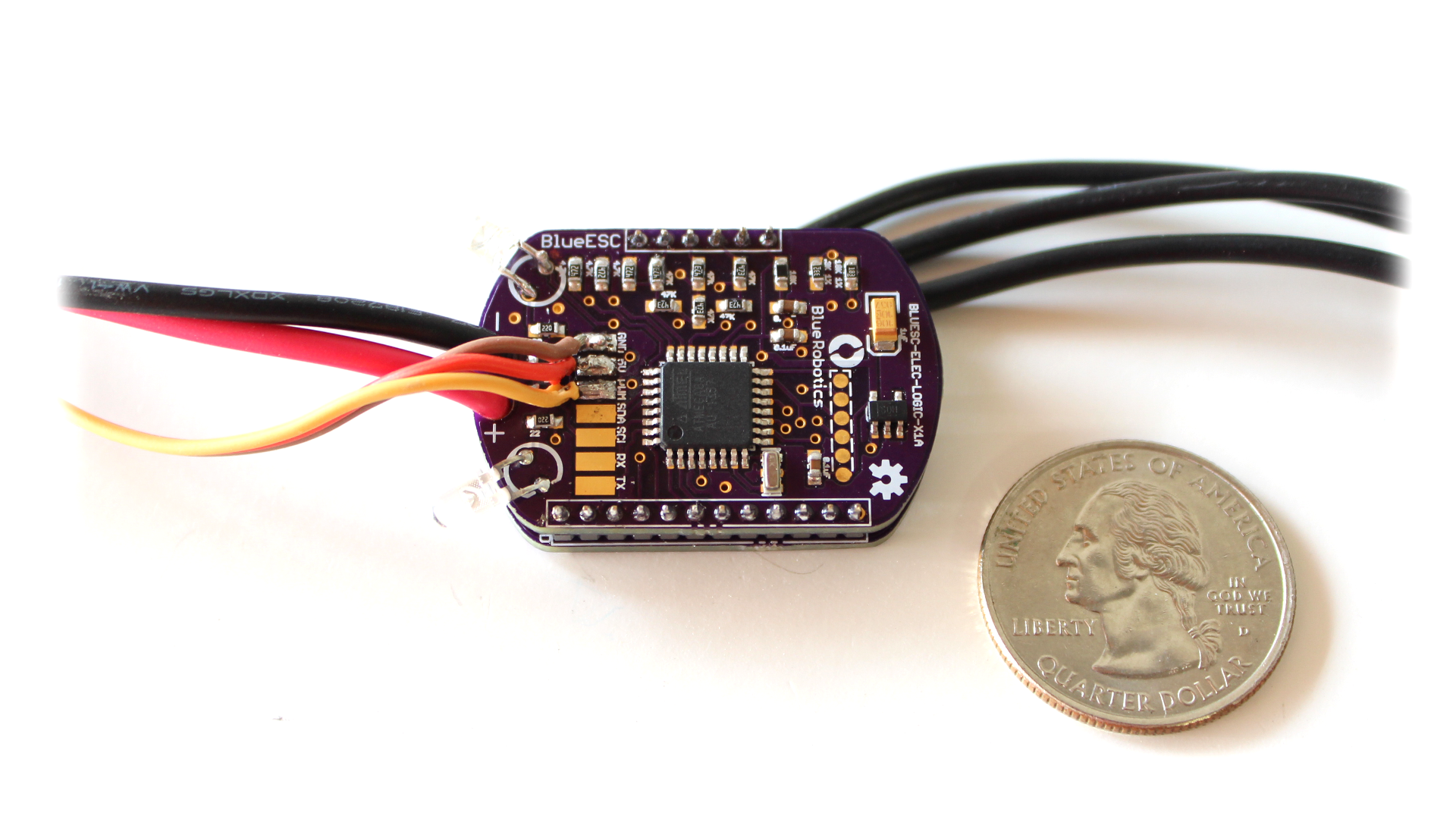 The production BlueESCs will be built by CircuitHub, which is a very cool service for PCB manufacturing and assembly. We will do final assembly (soldering leads, LEDs, and potting in the aluminum enclosure) here in Redondo Beach.
T200 Thruster
The T200 prototypes will be tested in the coming weeks. We have the stators in hand – we're just waiting for 3D printed parts to arrive for testing. If we're happy with the design, we'll order the injection molding tooling and parts immediately.
We'll share results as soon as we are able to test the prototypes!
BlueROV
After the Kickstarter campaign we decided to redesign the central water tight container (WTC) of the BlueROV for extra security and reliability at depth. We've gone through a few design iterations to reach the best design.
We started with a flat gasket seal on each side of the tube with rods to clamp the end caps on securely and compress the gaskets. This works alright but requires the ends of the tubes to be very smooth to avoid leaks. We've abandoned that design in favor of a double O-ring design. There are a few advantages to this design:
No need for rods to hold the end caps
Double O-rings provide better leak protection
The end-caps now support the tube for better performance at depth
Additionally, we came up with a clever way to pass connections through the WTC so that they are removable. It doesn't require expensive connectors! We'll share more details when we are closer to shipment.
SolarSurfer
We did a big test of the SolarSurfer this week. Unfortunately, it didn't go exactly as planned, but we learned a lot, which is why this is still listed under good news. 😉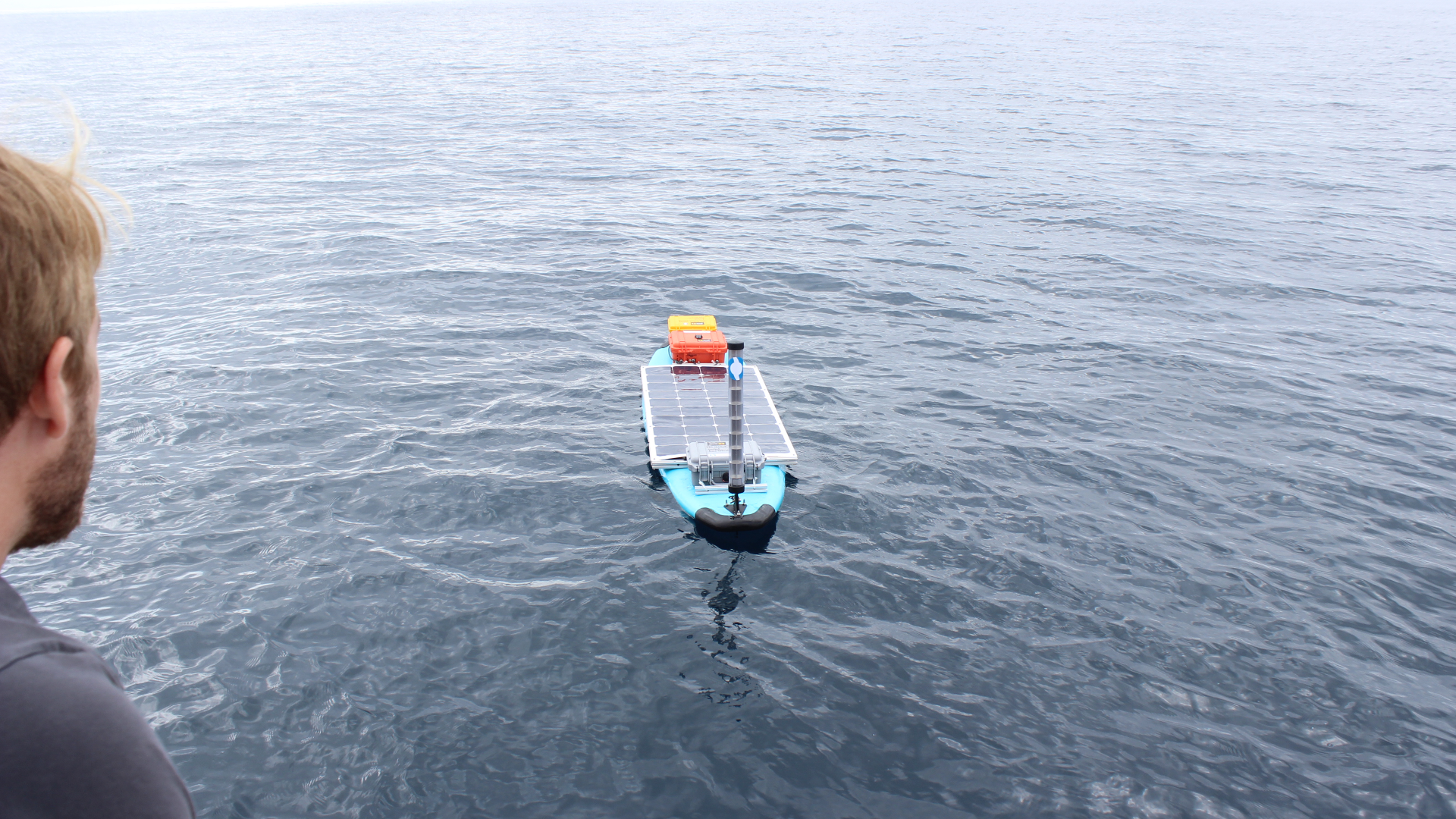 We were attempting to send to the SolarSurfer from Los Angeles to Monterey, CA. The trip, as planned, is approximately 300 miles and would take several weeks to complete. We launched on the 14th but (literally) hit a snag on the second day of the trip. One of the thrusters sucked in a piece of sea grass and jammed. Fortunately it was still close enough that we were able to recover it!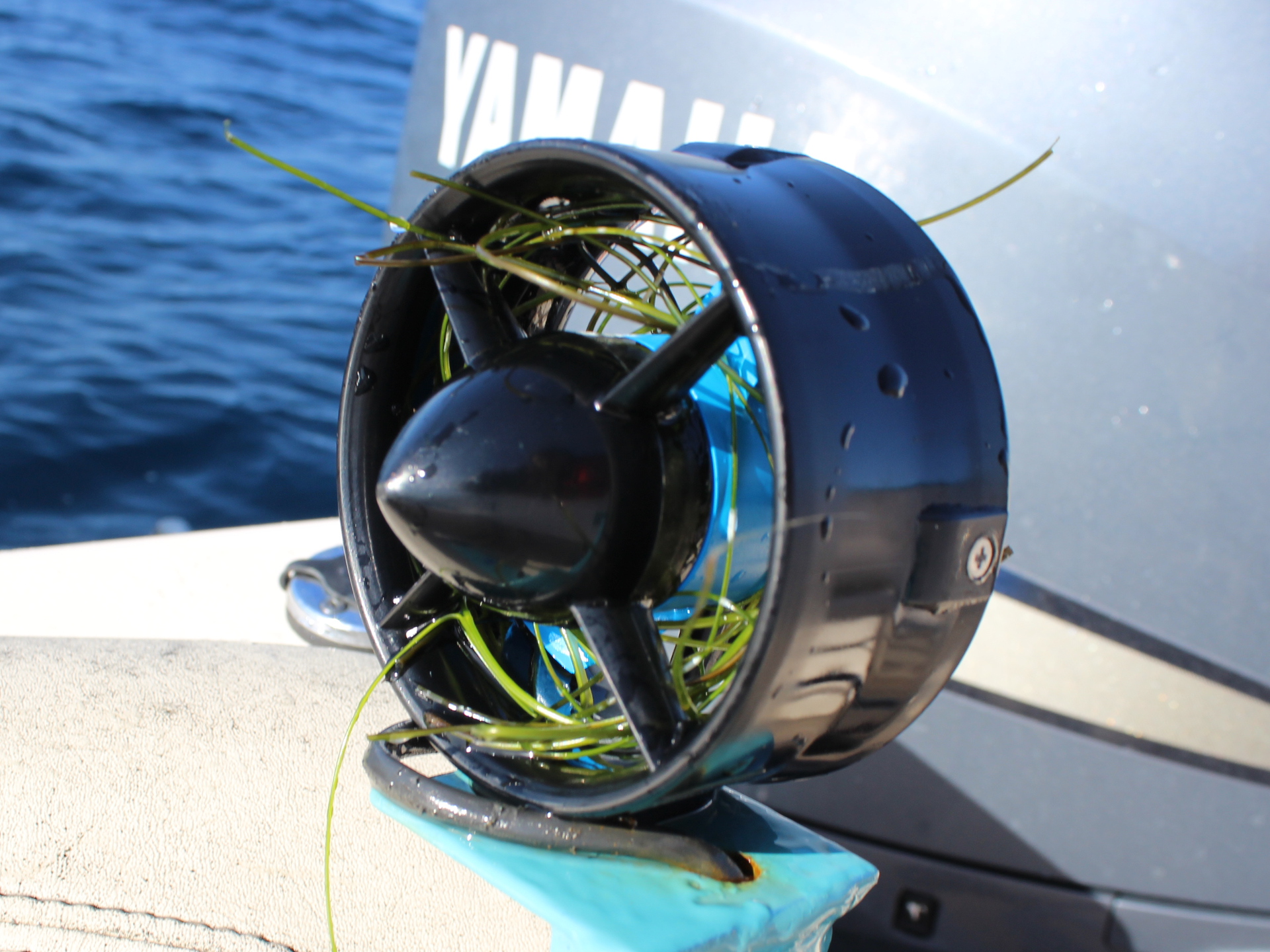 We think this will be fairly easy to fix with some plastic mesh stretched over the front of the thruster and secured with the four outer screws. Since this would be useful to all of you, we will post instructions if it works. Anybody have any other clever ideas for seaweed avoidance?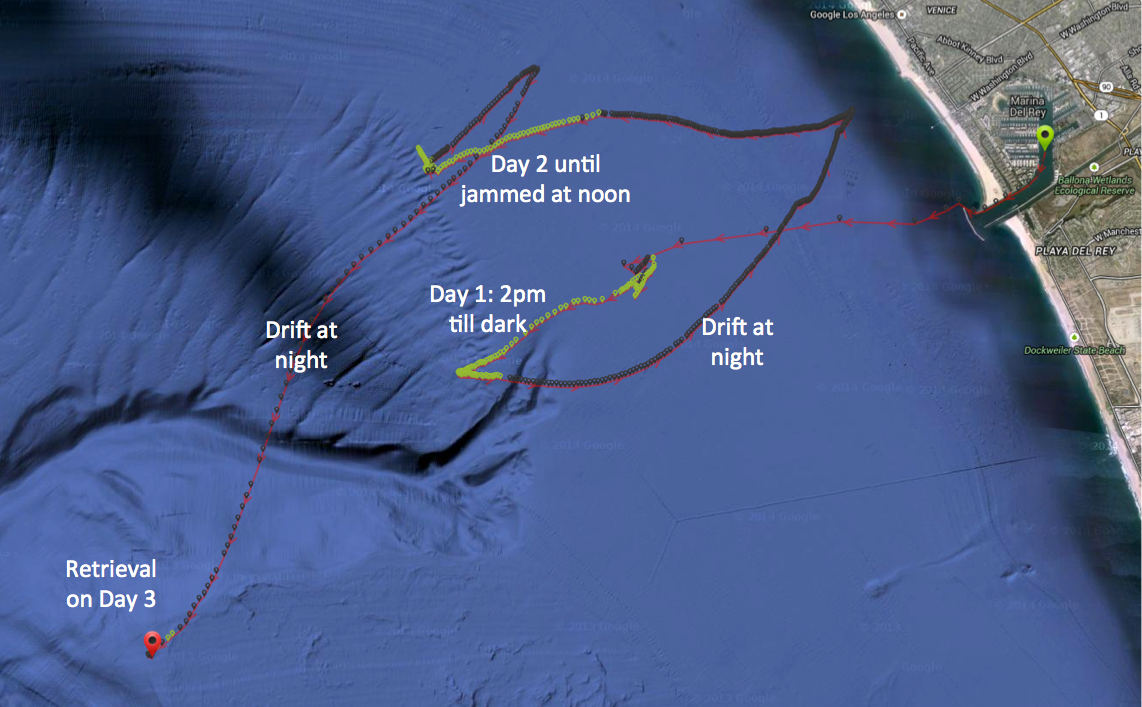 What to Expect Next
Here's where we think we are at in terms of schedule and deliveries.
Approx. November 20th: Shipment of the first hundred T100 Thrusters and Early-Bird OpenROV Compatible Kits. This covers all early-birds who didn't order the pre-installed BlueESC or T200s.
Approx. December 12th: Shipment of remaining T100 Thrusters that do not have the pre-installed BlueESC plus the remaining OpenROV Compatible Kits.
Approx. December 30th: Shipment of BlueROVs that do not include the pre-installed BlueESC.
January: Shipment of BlueESCs and shipment of the the T100s and BlueROVs with BlueESCs pre-installed.
February-March: Shipment of T200 Thrusters.
This is all more or less in line with our original schedule when you include the delays for BlueESCs and T200s. If you have an urgent need for your reward to be delivered sooner than shown above, and you haven't talked to us already, shoot us an email at [email protected] and we'll see what we can do.
That's all for now! Please email us or leave a comment if you have any questions or thoughts! We'd love to hear from you.