Hello friends!
It's been a while since we've sent out an email but a lot has happened – enough for several updates, so will try to send a few over the next few days. Everything is going great! Let's start with the coolest news.
We are shipping the first 100 thrusters this week! Some have been shipped already and the rest will be in the mail by Friday. The shipments are mostly going to early-bird thruster backers as well as a few people who needed their thrusters as soon as possible.
Building 100 thrusters in a single batch is a big milestone for us and we want to share what was involved.
As you may remember, all of the thruster's parts are custom, and we order them from all over the world. We still have to do a lot of work here in Redondo Beach to get the thrusters ready to ship.
First, here's some of the "raw" materials as they arrive to us.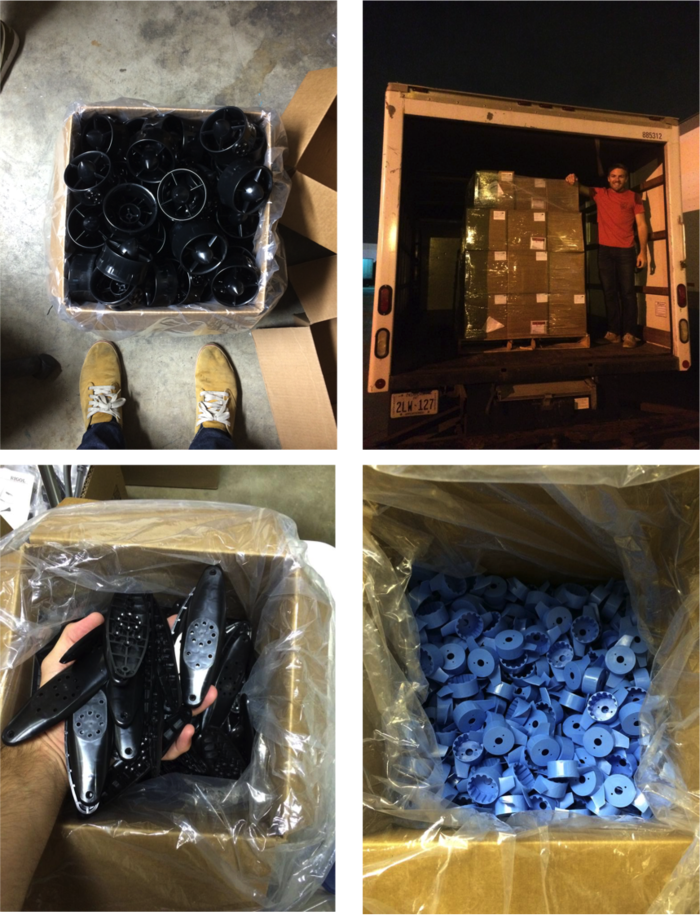 Some raw parts. Don't be fooled by the small boxes. We have *18 boxes* of nozzles like the one at top left.
It's amazing how much stuff we need to build all of the thrusters that you guys backed. We are literally up to the ceiling in boxes full of injection molded plastic parts. We have 1,000 cardboard tubes to package the thrusters in. We have 21,000 screws as well as thousands of other components including aluminum shaft collars, steel flux rings, and stainless steel motor shafts.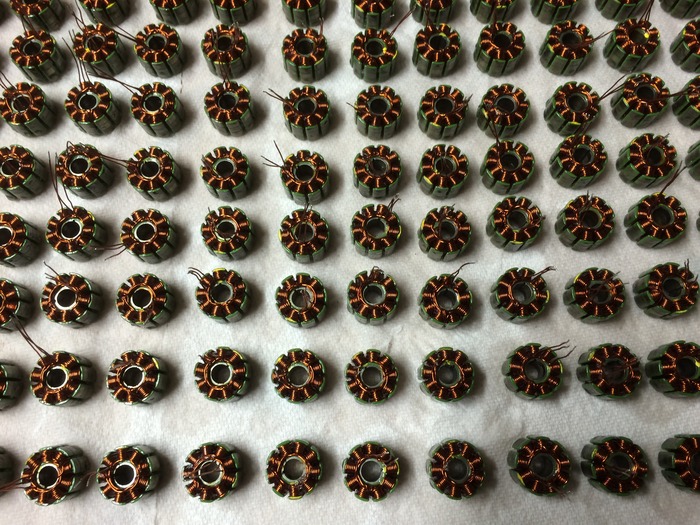 Wound and sealed motor stators.
The motor stators are wound and waterproofed elsewhere, fortunately, but we still do some extensive testing here to make sure that they are in great shape. Every stator spends at least three days in ocean water after which it is inspected for any signs of corrosion. Our supplier does a great job and the first batch had a 100% success rate.
We've been working hard the last few days to make sure that we could ship thrusters this week. Here are some pictures during the production process. We're going to go into more detail about the tools and processes in a future post, so we'll just show pictures of the in-process subassemblies here.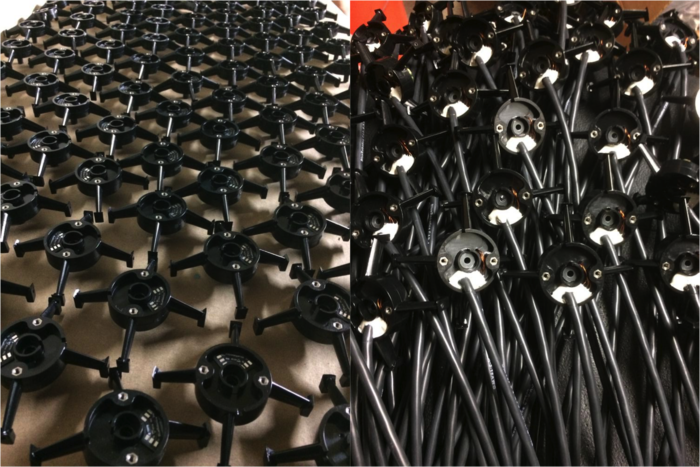 Stator bases while installing PCBs (left) and after stators and cables have been installed and sealed (right). The ends of the cables are sealed into the sealant so that water cannot leak through the cable and into your vehicle.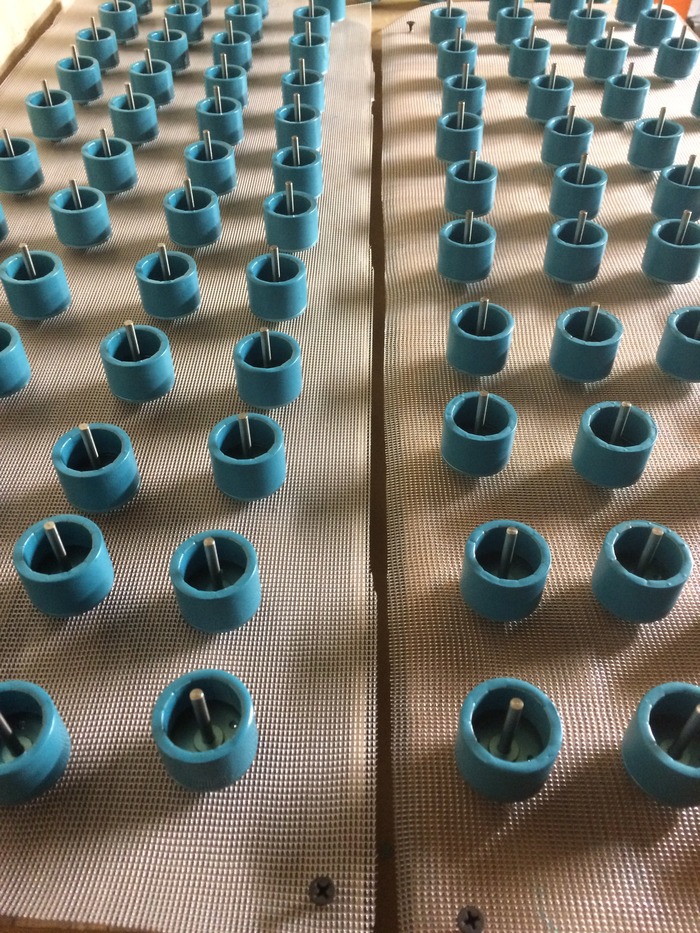 Here are the assembled and coated rotor assemblies. They consist of a steel flex ring road or base stainless steel motor shaft, and 12 custom arc magnets. They are coded in a tough protective coating that resists both abrasion and water.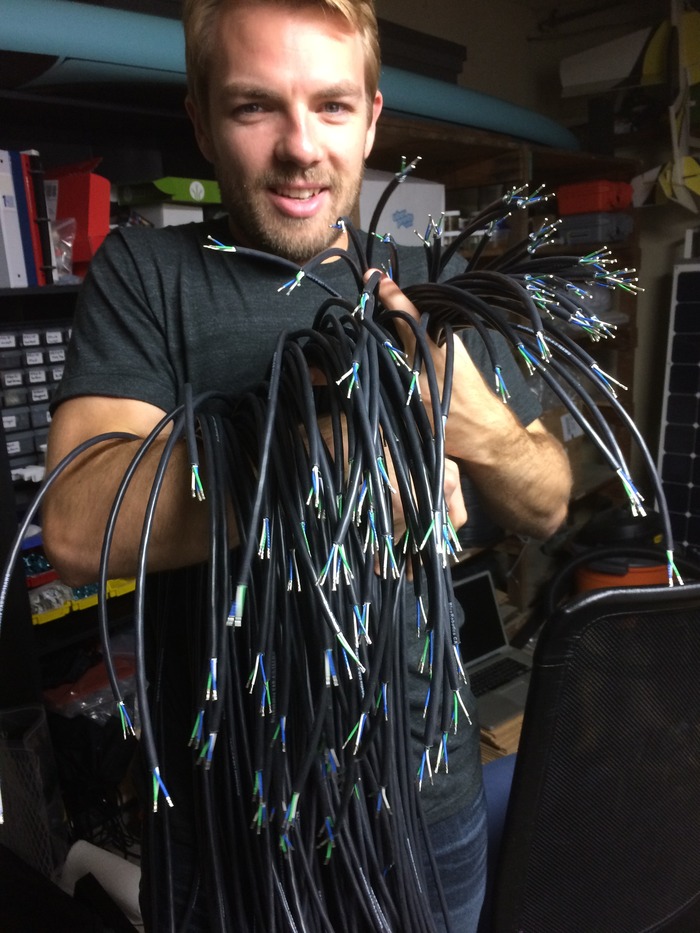 Here are the motor cables, with the ends stripped and ready to be attached to the thrusters. The cable is a tough urethane jacketed cable that can handle abrasion and is very water resistant.
The Result
Here's a pile of finished thrusters. Have you ever seen so many thrusters in one place??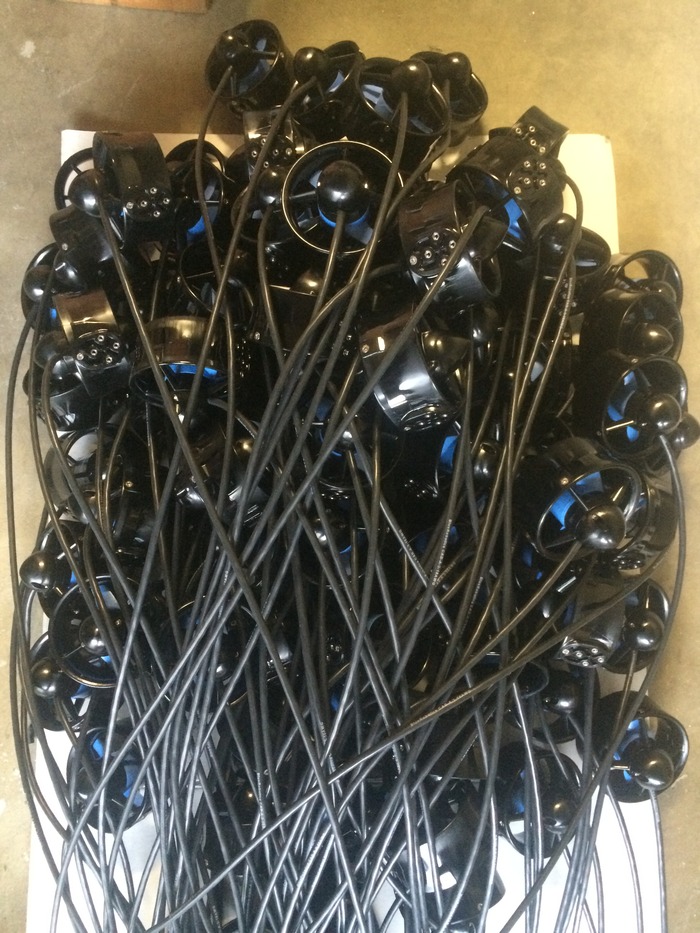 Finished thrusters!
Each thruster is carefully packaged into a cardboard tube that protects it during shipping. The cardboard tubes are shipped in rectangular boxes for extra protection.
Each thruster is individually serialized and labeled. Here's thruster #0001: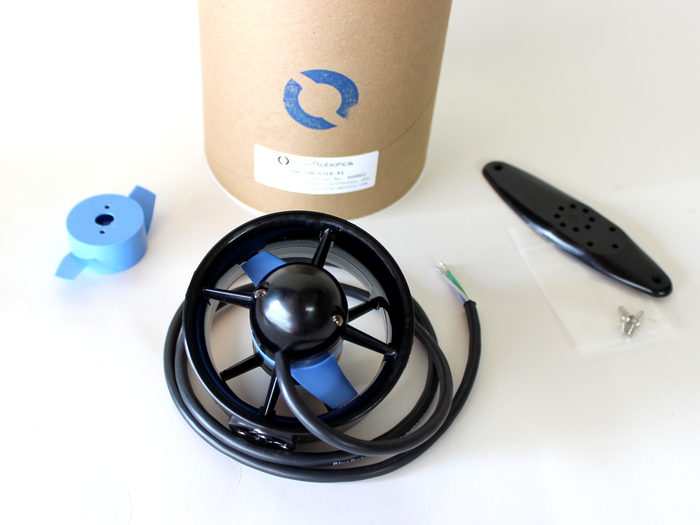 Each thruster comes in a protective tube and includes a counter-rotating propeller and mounting bracket.
Here's all of the thruster tubes that are shipping this week!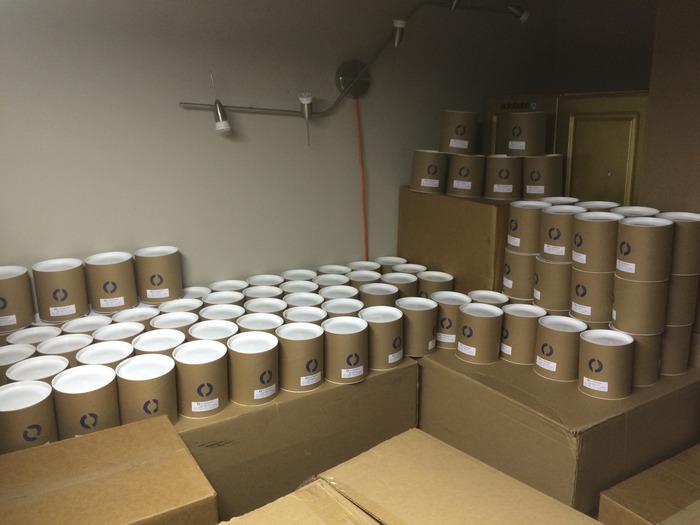 Packed thrusters ready to go!
That's all for now. Some of you will be receiving thrusters next week!
We'll follow up with some more updates in the very near future. We're going to cover the manufacturing process and tools, updates on OpenROV and BlueROV, and then talk about documentation, forums, and user contribution!
Things will be a little slow here during next week (Thanksgiving in the US), but we are expecting to ship the next batch by December 12th. If all goes well, we plan to have all T100s that were ordered without BlueESCs to be shipped in December. That will also include the OpenROV kits. We're hoping to ship BlueROVs by early January.
If you have any questions/comments/concerns, please feel free to email us at [email protected].