A number of thrusters shipped last week have been delivered and they are officially all over the world!
We've got some very exciting news for you in this update! We are introducing our online support forums and a new product: the M100 motor!
Forums
We've been getting a lot of questions over the last few months and now that we've shipped quite a few thrusters, we want to introduce you to our support forums.
http://forums.bluerobotics.com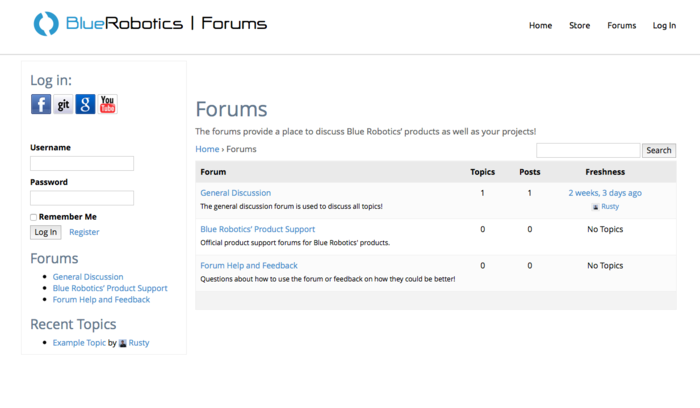 The forums are a place to ask questions about our products and to discuss applications. We want to keep this as simple and helpful as possible. Please
sign up for a forum account here
! If you've purchased through our online store, you may already have an account. Once you're signed up, you'll be able to ask questions and respond to others. Note that the forums are
still in beta and there may be bugs
but we'll make sure to address them quickly. Please report any issues.
The M100
If you are an OpenROV Compatible Kit backer, I'm sure you're still wondering what the "modified T100 thruster" for the vertical thruster looks like. Well, here it is: the M100 Brushless Motor.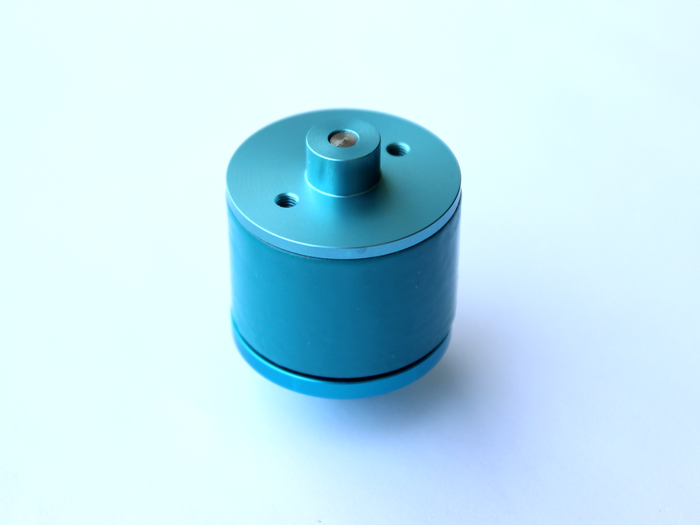 The M100! Note that on the real motor, the motor shaft extends 10mm out of the motor to attach prop adapters and other hardware.
The M100 is a simple brushless motor version of the T100. It uses the same internal components but uses a metal base that has standard brushless motor mounting holes. Its propeller (not shown) is a bit smaller to fit in the size constraints of the OpenROV.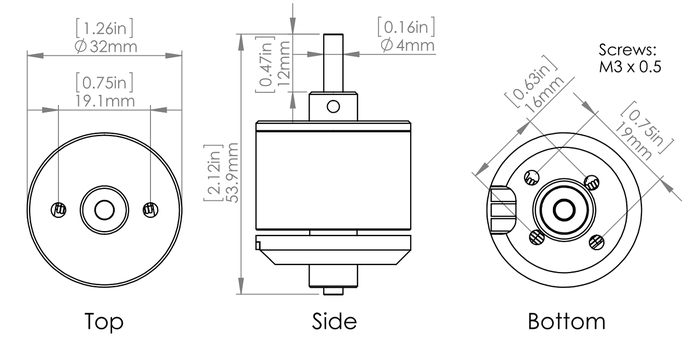 Dimensional drawing of the M100 motor.
What else can it be used for?
Even if you don't have an OpenROV, this is a really cool product. You could use it to make an underwater actuator, camera gimbal, even your own thruster! For instance, if you want to build a thruster into the frame of your vehicle, you can use the M100 to get the same performance as the T100 without all the extra plastic.
When will it be available?
We've added the M100 to our online store, but we won't be taking any orders for it until most of the Kickstarter rewards have been fulfilled. Check out the item on our store here.
We'll have an "M200" as well in the future. We'll also be selling a propeller specifically for the M100 as well as the T100 propellers, which fit great on the M100.
Details
Here's the specs:
Voltage: 6-16V
Max Current: 12.5 A
Max Power: 135 W
RPM/V with no load (Kv): 540 rpm/V
Shaft diameter: 4mm
Shaft length: 10mm
Connections: 3 copper pads (soldering and waterproofing required)
This is one of coolest parts: solder pads on the motor instead of loose wires. This allows you to solder wires directly to the motor and then seal them with potting compound or liquid tape. No need for waterproof wire splices or underwater connectors!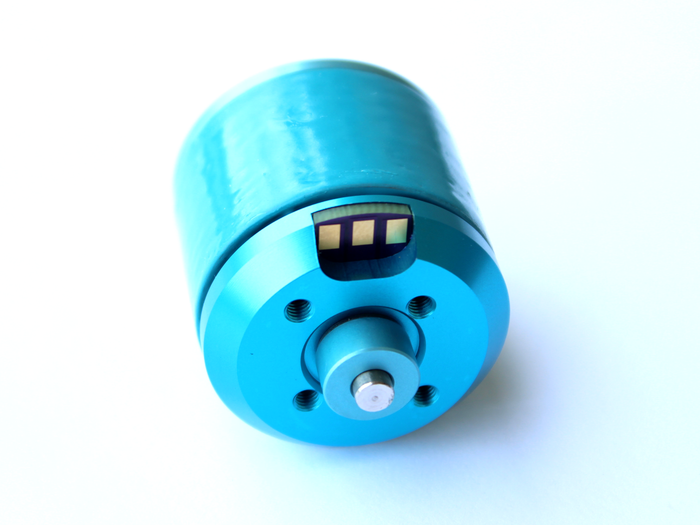 Solder pads for wire connections makes the motor easy to waterproof.
That's all for now! Have a great week and Happy Thanksgiving to those in the US. We'll have more updates for you soon!