Happy Friday everyone! We're very excited to announce the newest component available for our 4″ Series Watertight Enclosure – a dome end cap! We'd also like to share a few changes we made to our website. Check out the third installment of our new product videos!
New Product Video
Dome for the 4″ Series Watertight Enclosure
We are pretty amped for the dome for a number of reasons. For starters, it provides a little bit of extra room within the enclosure to fit additional electronics, sensors, or specifically, a camera! Its field of view is much better than that of a flat end cap and it's perfect for a tilting camera. Because of its rounded shape, the dome reduces drag on your vehicle.
The dome is $10 off for the first week!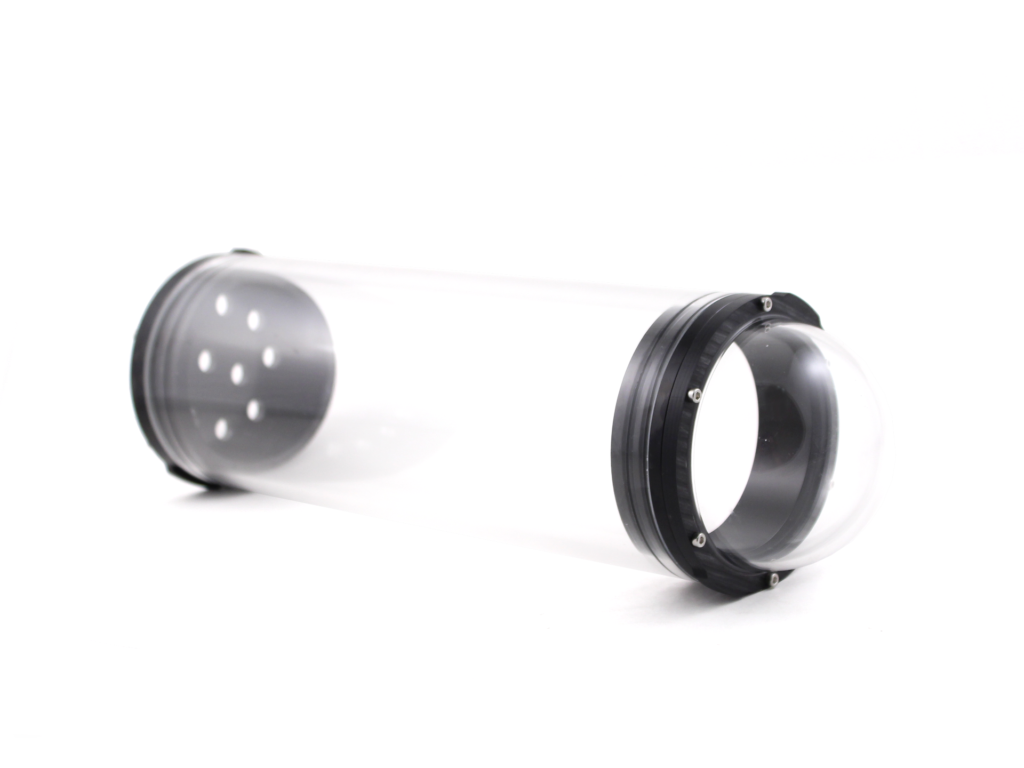 The way the dome is manufactured is fairly unique. The dome itself is injection molded acrylic and the flange is an ABS flange. The two parts are laser welded together, which uses a CNC controlled laser to melt the ABS flange to the acrylic dome. The joint between the two parts is tightly sealed and very strong.
We've successfully tested the domes to a depth of 150 m with no issues. Our test setup tested domes on two enclosures – one enclosure housed the camera that we used to film the second enclosure. We tested the domes in three stages – first to 50m, then to 100m, and lastly to 150m. Check out the footage!
T-slot Nuts
In other new product news, we've added packs of T-slot nuts to our store. These stainless steel 316 nuts are used on the BlueROV and are useful for adding extra components to your vehicle! They come in packs of four.
Gallery
We're super excited about our Gallery! We love to see what you guys are doing with your thrusters, enclosures, and other components. We now have a Flickr account to showcase all of your awesome projects! Check out a preview below!
[flickr_photostream user_id="134735962@N08″ max_num_photos=9 images_height=200 randomize=true pagination=none]
Return Policy and Terms of Service
We've also updated our Return Policy and Terms of Service. The Return Policy outlines what can be returned and how to do so, as well as how to handle exchanges. The Terms of Service is basically an outline of what you as the user agree to by using our website. Pretty standard stuff. Feel free to check both out and shoot us an email if you have any questions!