It's been one week since the T100 Thruster Kickstarter campaign ended! We've already been hard at work making sure that everything goes smoothly. Here are some updates:
What If You Pledged An Incorrect Amount?
A few people have emailed us telling us that they pledged the incorrect amount for the number of thrusters and ESCs that they wanted. We set up a "Kickstarter Credit" item on our online store. If you pledged an incorrect amount, you can use the Kickstarter Credit to fix your pledge. Each credit is worth $1, so if you underpaid by $20, you can purchase 20 Kickstarter Credits.
Here's the link to the credit: https://bluerobotics.com/store/uncategorized/kickstarter-modification-credit/
Please only use the Kickstarter Credit if your pledge amount is incorrect. If you want to purchase more thrusters or ESCs, please do so through our online store. More products will be available for pre-order in the next week.
Production Status
In the spirit of being open about our company and products, we'd like to keep you all updated on the production status of your rewards! Besides that, it's pretty interesting to see what goes into developing and producing a product like the T100 Thruster.
Stickers:
The stickers have been ordered. They are waterproof (as promised) and will look like this: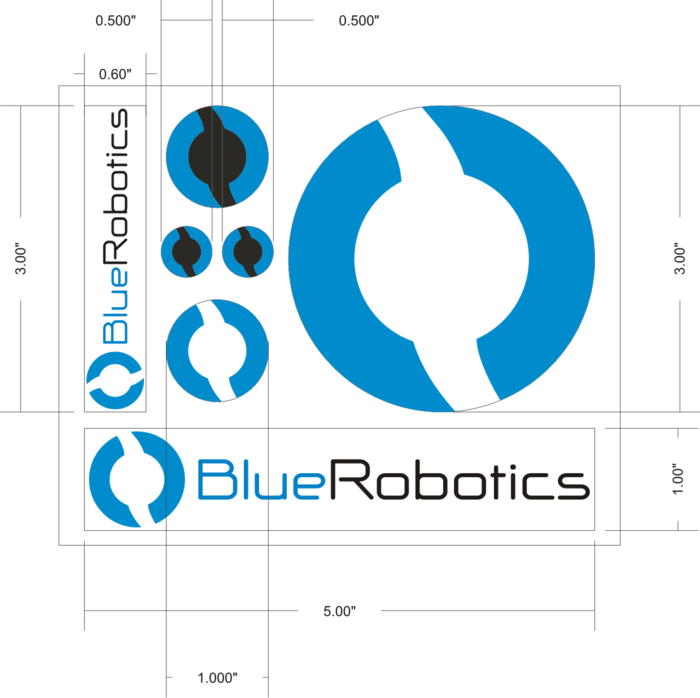 There are actually seven individual stickers on the sheet. Every backer who backed the "Supporter" reward level or higher will receive a sheet of stickers!
T-Shirts:
The T-shirts will be ordered very soon as well. We are still waiting on a few surveys. They are screen-printed and look like the shirts we wore in the Kickstarter video.
T100 Thruster:
We've been ordering everything we need to complete the thrusters and should be able to get the first ones out the door by the end of October. There's way too much to go into detail, but here are some highlights of what we've been doing:
We already have the full quantity of:
Motor shafts
CNC aluminum rotor bases
Steel rotor flux rings
Plastic bearings
Custom shaft collars
Threaded inserts
On the way:
Several thousand feet of custom cable
Several thousand custom neodymium magnets
Production prototypes of wound and coated stators (from subcontracted company)
And 21,000 screws (crazy, right?)
Upcoming soon:
Thousands of injection molded plastic parts
Internal wiring PCBs (used to connect wires from stator to cable or BlueESC)
Full production run of wound and coated stators (after approving prototypes)
That list covers every single part. Once everything is received, the assembly process is the only thing remaining before shipment. We'll provide more updates when we get there.
T200 Thruster:
We have a few sample stators and we are working on the mold design for the three new injection molded parts that are needed.
BlueESC
In one of the last updates, we showed you a low current test of the BlueESC. We've now successfully completed a high current test! We're in the process of laying out the ESC schematic into a much more compact board that will fit on the front of the T100 and T200 thrusters.
OpenROV Compatible Kits
The OpenROV kits contain two regular thrusters, covered above, plus one modified thruster that fits in the OpenROV vertical thruster position.
What is that modified thruster like? Well, it's not so much a modification as it is a new embodiment of the T100. We're not going to say too much about it until we can show you the production version, but it's very cool. It is not exclusive to the OpenROV at all and can be used in many different applications! Wait and see.
BlueROV
We've made a few minor changes to the overall design as well as some big improvements to the central water-tight container (WTC) that houses the electronics. The WTC is incredibly important because it protects hundreds of dollars of electronics from the water and pressure. Since this is a "Hacker Edition", we expect you to open and close the WTC often to make changes, debug, etc., so we're trying to make it as quick and easy as possible while providing a reliable seal that works at several hundred meters under water.
We have made several prototypes and have improved ones in the works. We'll provide more info and test results as we progress!
That's all!
Thanks for reading this far. We'll continue to provide regular updates throughout the development and production process! Thank you to all of you for backing us and believing in us!
Happy Thrusting!
-Rusty, Joe, and Josh from BlueRobotics