In the past we've asked all of our customers and followers to complete a "product interest survey" to help guide our future plans. We're doing it again this year to learn about your current interests, desires, and feedback. If you have a moment, please take our 3rd Annual Product Interest Survey and let us know what you want. It really matters to us and it actually affects what we work on next.
We've always tried to keep these surveys short, but this year's is a little longer because we have so much to ask about! Because we want to motivate you to give the best possible feedback, we'll be giving away four $250 Blue Robotics Store Credits to a few lucky respondents!
Take the 3rd Annual Product Interest Survey!
Just like last time and in our continued spirit of being an open and transparent company, we want to share some of the results from the last survey in 2016 and show you how we used that info! Continue reading if you're interested!
Vehicle Type
The first question asked about vehicle type, and we again got an overwhelming response for ROVs. However, there was a big jump in interest in AUVs and USVs.

Applications
The results for applications look very similar for 2016 compared with 2015. We saw a bit of a shift with more people using our products for professional applications like inspections and a smaller percentage of the responses going to "robotics competitions". Lots of people were interested in photography and exploration as well, similar to the first survey.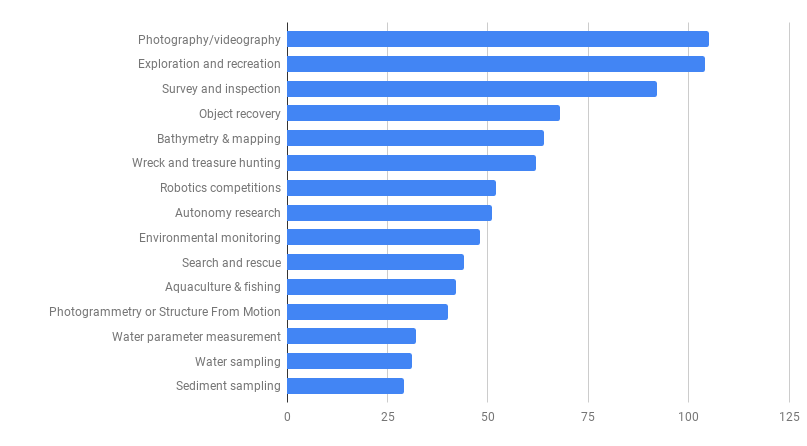 Depth Rating
This one is particularly interesting and shows that people's interests and expectations for the products are increasing. In the first survey, most people were interested in 25-100m and the spread was very even on either side of that depth. However, in this survey, the results shifted noticeably deeper with a significant number of people interested in 100-1000 meter depths.

(more…)