It's been too long since we sent an update! We've got a lot to share, both good and bad! There have been a few delays to the T200s and BlueESCs but we've got everything back on track and we have a clear path forward. Those of you who haven't received your rewards have been incredibly patient and we really appreciate it!
New Team Members
First, of all, please welcome Elisa and Adam to our team! They've joined us at our new office in Torrance, California and they're dedicated to making sure that our production goes smoothly from here on out. In the few weeks they've been working we've already had a big jump in production output.
T200 Thruster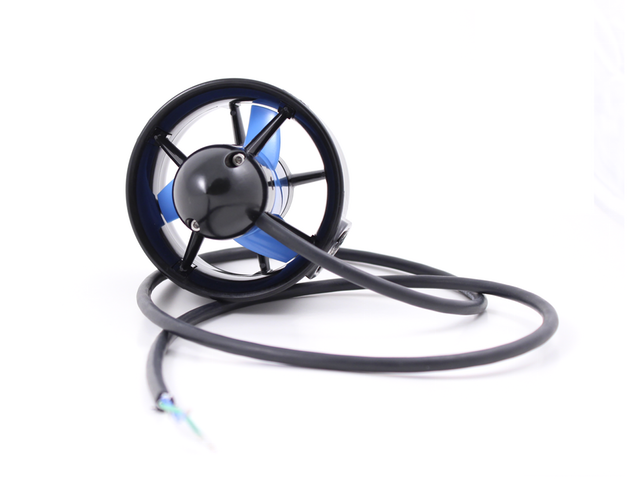 Production-grade T200 Thruster!
Let's start with the good news: we have production parts of every piece for the T200 Thruster and we have final performance information and charts! The bad news: we only have enough parts for 10 thrusters at the moment and that won't be resolved for about 2.5 weeks. We've spent a lot of extra time with our plastic injection molder and our motor stator winder to get everything just right, but that's pushed things back a bit.
As soon as we have those parts in hand we should be able to get all pending T200 orders filled within about 5-6 weeks. That means most T200s will be shipped between June 23rd and the end of July.
We've added a bunch of technical information on the T200 documentation page including detailed performance charts. The important parts are that the maximum thrust is a whopping 11.2 lbf at 16V and maximum power is around 350 W. Here's the thrust vs. throttle input: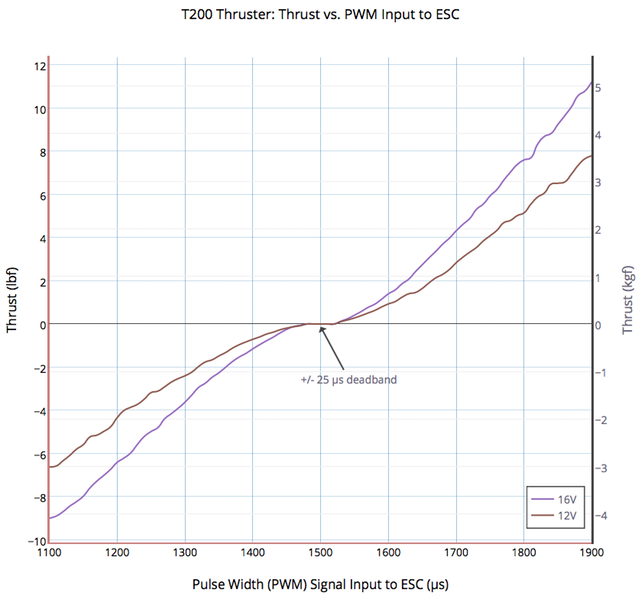 Here is another image of the T200 with all production parts.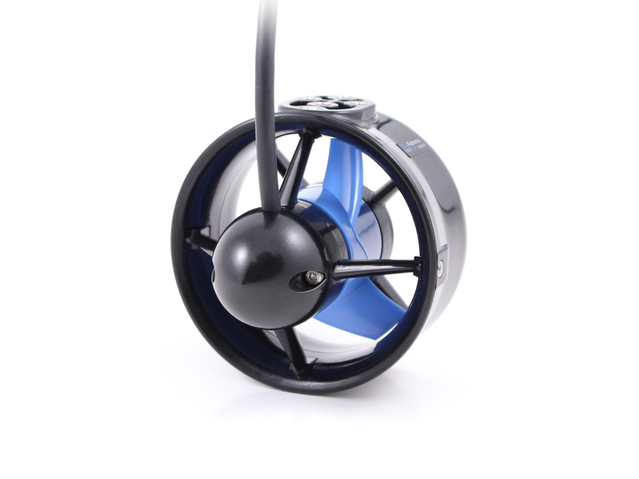 T200 Thruster – Shipping soon.
BlueESCs and Software
We are caught up with production of plain T100s and new orders have a pretty short lead time. However, we're still behind and catching up on T100s and T200s with BlueESCs. Now that we've got a few new people in the office we'll be able to get these out faster. We're currently expecting most T100s with BlueESCs to be shipped by the early July. T200s with BlueESCs will follow by the end of July
We do have a big update for the BlueESC: we have completed the I2C modification to the firmware so you can now update throttle via I2C and receive sensor data via I2C. You get the following data through I2C:
Actual motor speed in RPM
Voltage
Current
Internal temperature of ESC
We have documentation available for the I2C protocol and we will soon have code examples and an Arduino library to help get things working as quickly as possible.
Here's a short video showing a thruster running with the BlueESC and a live feedback of data from the ESC. Pretty cool!
BlueROV
Our BlueROV shipments have also been slightly delayed with only a few kits having been shipped so far. We are working to resolve that and hope to have all kits and assembled versions shipped by mid-July.
Additionally, we've been working on the assembly manual for the BlueROV and you can check it out here. It's still a work in progress so please check back for more updates.
Additionally, we depth tested the BlueROV enclosure this weekend. Since we don't have easy access to a pressure chamber that can achieve high pressures, we lowered the enclosures into the ocean at increasing depths. We're happy to report that the enclosures performed well to a tested depth of 106m. The next tested depth was 170m, at which point the rear end cap of the enclosure cracked and leaked.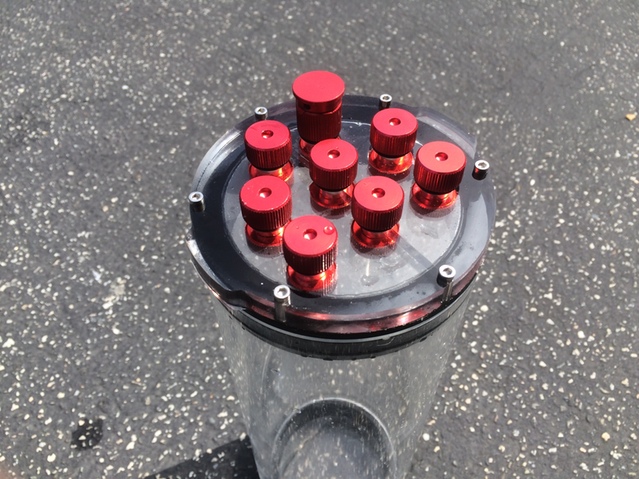 BlueROV watertight enclosure end cap after testing to 170m depth. Note the crack through the center of the cap. The cable penetrators shown do not have holes, but would normally carry thruster cables.
We're planning to offer a replacement end cap in the future that is made of aluminum and suited to higher pressures. We will also repeat this test in the near future to confirm the exact depth rating. We are hoping to achieve at least 150m with a goal of 200m or greater.
---
Now that we have a new office and a few new people we're settling into a regular production schedule, we should be able to achieve the schedule laid out here. We sincerely apologize for the delays for the remaining rewards and we are be working very hard to rectify that as soon as possible!
If you have any questions, comments, or concerns, please don't hesitate to email us at [email protected].