They say it's your birthday?! Well it's the BlueROV2's birthday, too, yeah! Today we are celebrating the BlueROV2's first cycle around the sun with the release of two of its components: the Electronics Enclosure and the Fairing.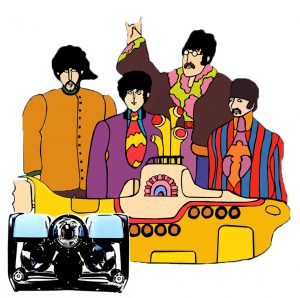 The Beatles with their two favorite underwater vehicles (probably).
BlueROV2 Enclosure
Are you building an ROV with a custom frame but wish you had all the brains of the BlueROV2? That is now possible! The BlueROV2 Enclosure comes with all of the electronics included in the Advanced Electronics Kit, as well as 6 pre-wired BlueROV2 Basic 30A ESCs.
BlueROV2 Fairing
If you're looking to protect your buoyancy foam in the same fashion as the BlueROV2, we've got you covered! These fairings are made of polycarbonate and come with 4 screws to attach to your vehicle.
That's it for today everyone! Be sure to check our social media for special news! 😉