Today we're especially charged up to announce a new product that has been highly requested for some time! We now have available a custom made high capacity lithium-ion battery made specifically for the BlueROV2!
Check out the New Product Video on Youtube:
Lithium-ion Battery (14.8V, 18Ah)
With its massive 18Ah capacity, this 4S 14.8V battery will allow you to run your BlueROV2 for around 4 hours at moderate load, almost twice as long as previously possible with a 10Ah battery. We're especially proud of the build quality of this battery, the 18650 cells it is comprised of are known to be exceptionally high performing and very safe.
Take a look at the results of our moderate to heavy load case. With gain set to 25% and 4 lights at 1/4 brightness, the battery powered the BlueROV2 for well over 3 hours! With almost constant depth and heading hold interrupted by periods of heavy full throttle use, this represents a realistic in field use.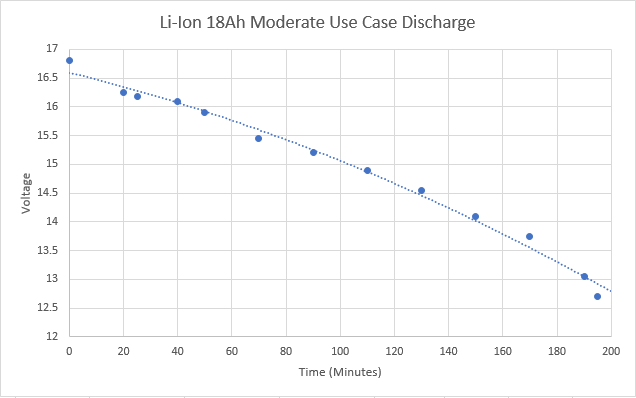 The notable high capacity of this battery means that it is subject to stricter shipping regulations than our other products. At over 266Wh, it has almost triple the energy of the maximum allowable laptop battery that can be transported on a passenger aircraft! In addition to a hazardous goods shipping surcharge, at the moment we are also only able to ship this battery to a select number of countries:
Australia
Canada
India
Japan
Mexico
New Zealand
Singapore
United States of America
We're working on expanding this list to include most of Europe and a few other countries. We hope to be able to do that within a few weeks.
We've got some more product announcements coming soon that we think will generate quite the buzz! That's all for now!