Why You Should Add Penetrators to Your Subsea Design Library
By Rustom Jehangir
Originally published in Sea Technology, Volume 63, No. 7
Underwater connections are a fundamental part of just about every subsea system. Unless a device can be self-contained in one enclosure, it needs cables and connections.
Subsea engineers, scientists and operators have a lot of options available when it comes to underwater electrical connectors on the market. Everyone has their favorite go-to connector brand and model and usually has a lot of opinions about why. However, all available connector options have one thing in common: They're expensive.
When we started Blue Robotics, our primary focus was to drive down the cost of subsea components to enable more people to use them. We began with thrusters, then expanded to watertight enclosures, and later added more components, such as lights and cables. That path led us to building an ROV that required us to integrate all of these components together. Unfortunately, doing so with available connectors while maintaining an affordable price point seemed impossible. Each of our BlueROV2 vehicles has anywhere between 15 to 25 cable penetrations—you can imagine how expensive it would be if each of those were a subsea connector set!
We came up with a simple solution: a potted cable penetrator that uses epoxy adhesive to seal a cable passing through an aluminum bulkhead. This creates a low-cost, yet removable, cable connection. It was a risky decision that went against the common design patterns in the industry, but it was a critical element that enabled the success of our BlueROV2 vehicle.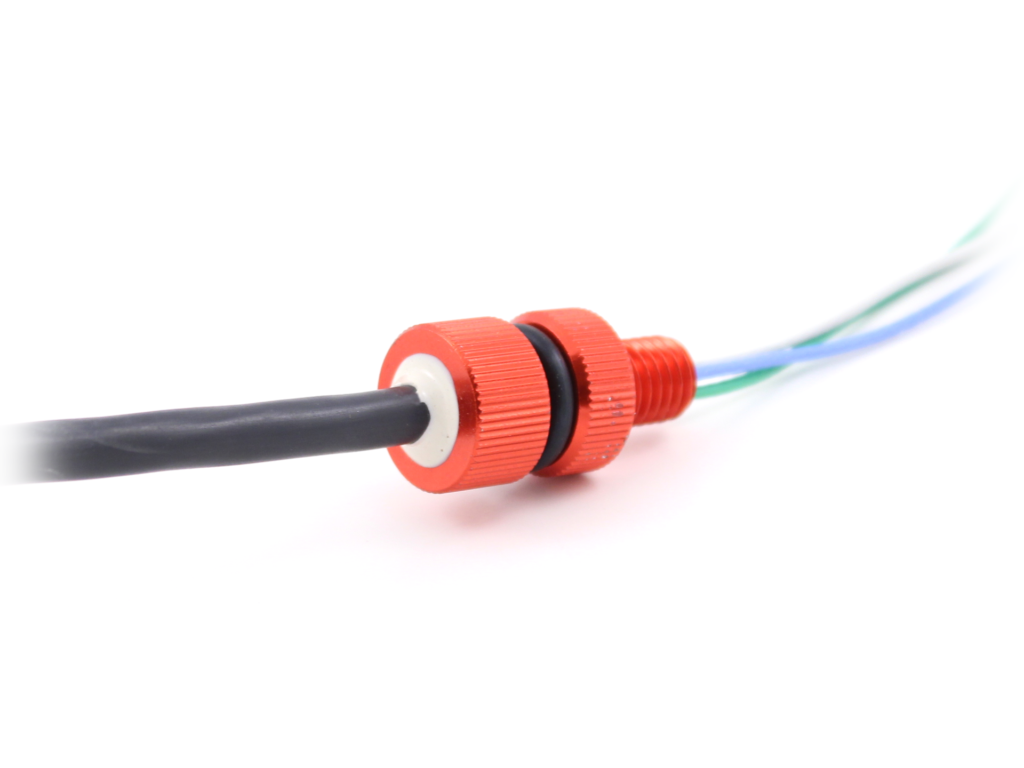 The potted cable penetrators did a good job and helped our company to grow and develop many new products, but as we increased production to higher volumes, we discovered weaknesses in reliability, performance and manufacturability. We struggled with the time needed to manufacture them and with their sensitivity to variations in potting material batches, environmental conditions and material surface preparation. In addition, our customers were pushing our products harder and exceeding the limits of the potted cable penetrators. These limitations and challenges with the potted cable penetrators led us to pursue a better, more robust solution, resulting in the WetLink Penetrator.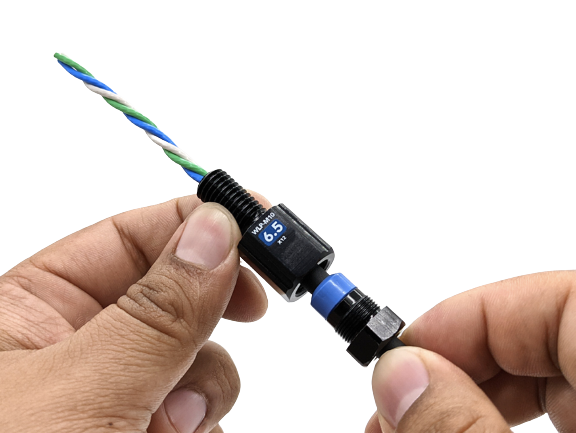 New Design
The WetLink Penetrator is a compression gland cable penetrator that's easy to assemble, free from any epoxy or adhesive, and extremely reliable to a tested depth of 950m. There are sizes available for any cable with a jacket outer diameter between 3.7 to 9.8 mm.
Our Blue Robotics team rigorously tested and qualified the WetLink Penetrator design. New test equipment was designed and built that could run samples through extreme pressures, temperatures and electrical conditions to validate that the design would be unquestionably reliable. We tested thousands of units with a wide range of cables in harsh conditions with great success.
Today, I can confidently say that the WetLink Penetrator is the most enabling component in our product line of 260 components. It's what enables our products to be affordable for everyone from students to professionals, and, therefore, it's what enables the mission of Blue Robotics: to enable the future of ocean exploration via marine robotics.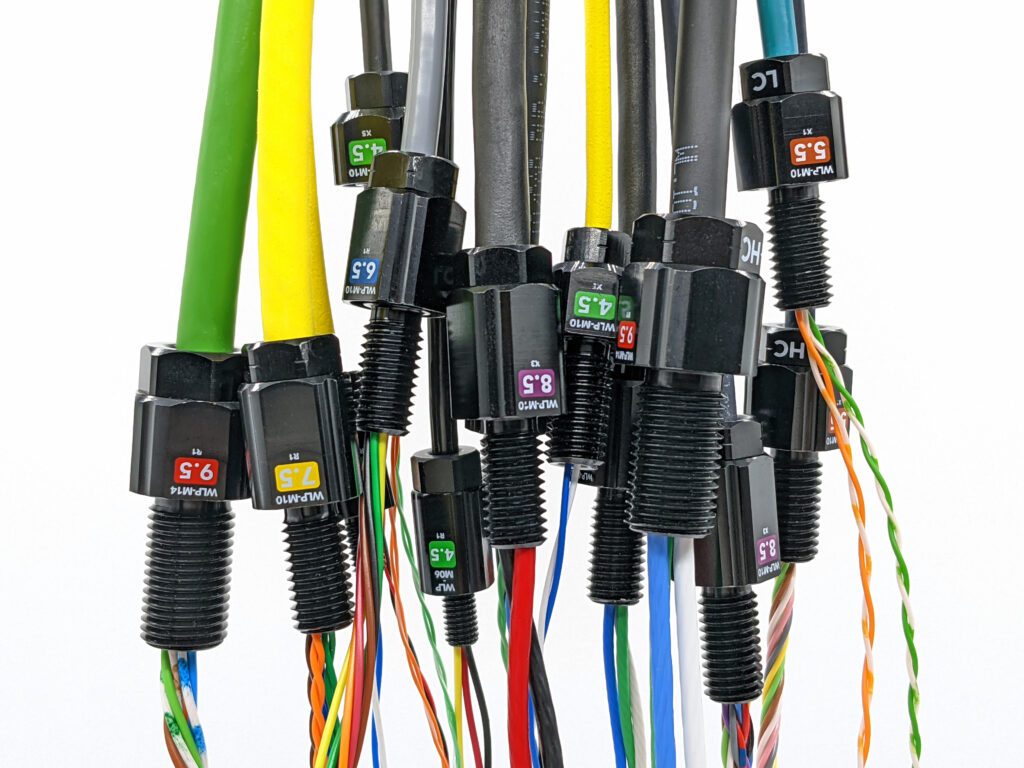 Adding to Your Library of Components
Given improvements in reliability, and the confidence gained through the WetLink Penetrator testing, I believe penetrators are a critical subsea design element that can often replace traditional subsea connectors in many applications. As a designer or operator of subsea systems, I encourage you to consider including penetrators in your subsea design library.
Wondering where penetrators might fit? The following are a few examples of design situations that can benefit from using a penetrator.
Device Side Connections. Device side connections, such as a cable that extends from a sensor or actuator's enclosure, can use a penetrator rather than a connector bulkhead. Cable whips installed on a device, like the one on Blue Robotics' Ping sonar altimeter and echosounder, are rarely removed and typically have another penetrator or connector installed at the other end, making a device side connector unnecessary; a penetrator would be more suitable. Many subsea devices, ranging from sonars to cameras to lights to sensors, can benefit from the use of a device side penetrator.
Intra-Vehicle Connections. Penetrators are also ideal for intra-vehicle connections between different subsystems or enclosures. Most subsea vehicles are built with multiple enclosures to separate major systems in the vehicle. For example, many ROVs isolate the power system from the camera and control electronics. AUVs are often built from many smaller enclosures with buoyancy foam filler between enclosures, and many small surface vessels use a catamaran design that necessitates having electrical connections between separate hulls. In all these cases, the electrical wiring is semipermanent and ideally suited to use a penetrator rather than a connector set.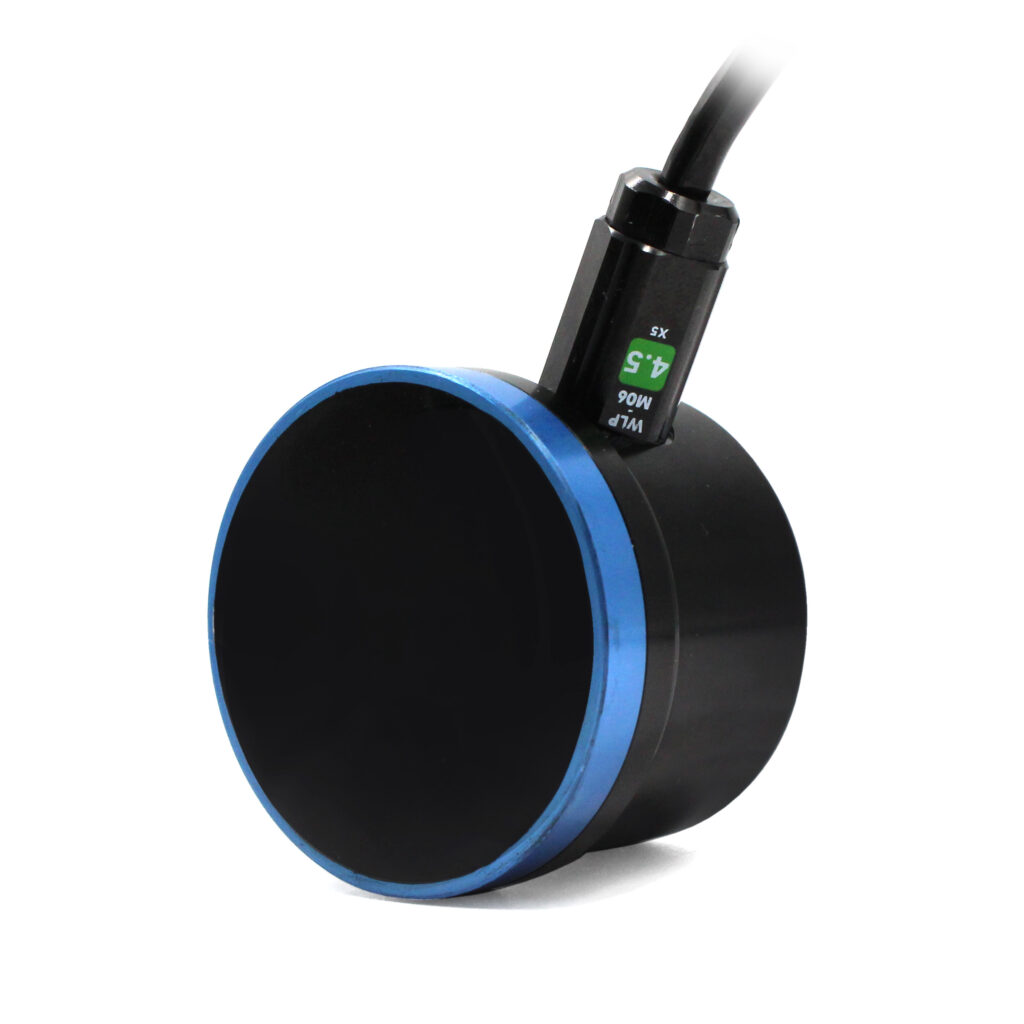 Prototype Vehicle or System. One of the most useful times to use a penetrator is when developing a prototype vehicle or system. It's usually time consuming and expensive to source purpose-built cable and connector assemblies.
With the flexibility to be quickly installed on many different cable sizes and constructions, penetrators can enable a prototype system to be constructed faster and more cost effectively.
Field Installation Applications. Potting-less penetrators such as the WetLink Penetrator are also particularly useful in field installation applications that are typically done with overmolded cable splices. In many parts of the world, it's challenging to get the potting compounds required for overmolded splices and field installations. Additionally, the cure time of those potting compounds can lead to costly project delays. A compression gland penetrator such as the WetLink Penetrator can be installed quickly and is ready to use immediately.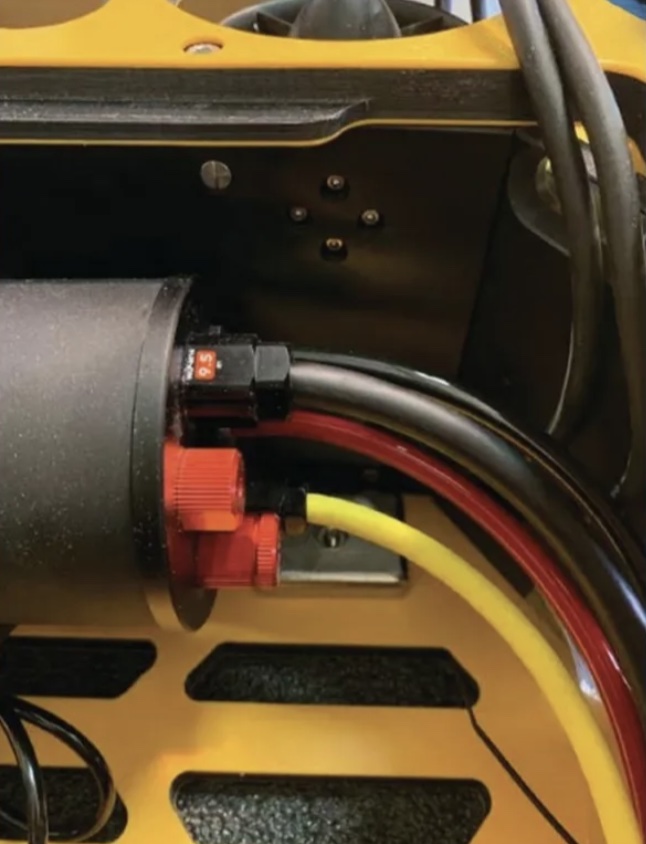 Cost-Sensitive Applications. Penetrators are ideal for applications that are cost sensitive and can benefit from an order of magnitude cost improvement relative to traditional subsea connectors. That benefits many potential users, including students competing in competitions such as RoboSub and MATE, young subsea companies trying to get a product to market affordably, and even those who have relied on subsea connectors for many years.
Regardless of what type of system you may be designing or operating, you're likely to find a place to benefit from the cost, ease of use and flexibility of cable penetrators. Consider adding them to your subsea design library, and the next time you're designing a subsea connector into your system, ask yourself: Could this be done with a penetrator instead?