Originally published in ROV Planet Magazine, Issue 21
As you page through the latest marine news, it's easy to see why ROVs and other robotic marine vehicles are nearly synonymous with the industrial and commercial world. The value they provide is undeniable and worth a heavy price tag. Less obvious are the many applications where this technology could provide critical value but where there isn't enough funding, or a strong business case to justify investing in such platforms. Conservation is an area that unfortunately falls into this category despite its importance to our planet's future. Since starting Blue Robotics five years ago, our goal has been to create affordable and capable marine robotics components and, through doing so, enable the use of subsea technology in more fields. To us, conservation is one of the most exciting areas in which marine robotics has a significant potential for positive impact.
Marine robotics can help researchers bring both public awareness and direct action to environmental and ecological conservation. One person working to bring public awareness is Nick Hawkins, a documentary filmmaker, who is on a quest to film the endangered North Atlantic right whale in Canada's Gulf of Saint Lawrence. There are fewer than 400 of these whales left on the planet, and only about 100 of those are reproducing females. Between boat collisions and fishing net entanglement, the North Atlantic right whale population is dropping at an alarming rate. More than 17 dead whales washed ashore in 2017, spurring outcry from conservationists and a renewed media interest. Despite that attention, the whales have rarely been filmed in action underwater, making it difficult for the public to understand these migratory animals and the importance of taking action to protect the species.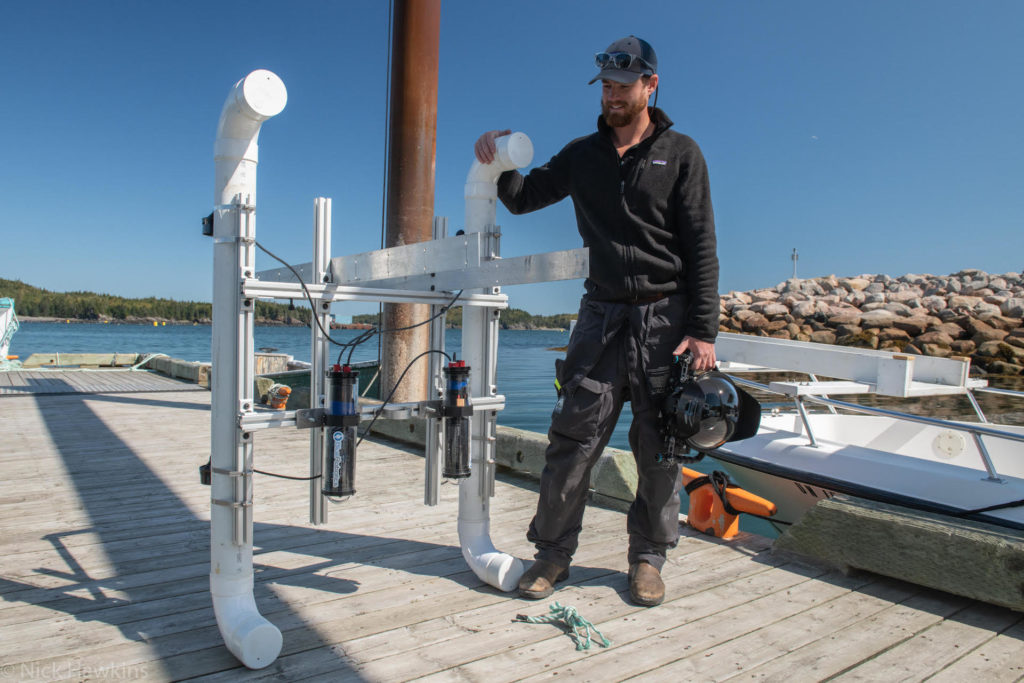 "One of the main challenges in making underwater imagery is the low visibility of the water where the whales feed, making it unsafe for a diver to enter the water," says Hawkins. Rather than sending in a diver with a camera, he built a small unmanned surface vessel (USV) that can be launched quickly from a small boat. The USV carries a number of cameras mounted below the water and controlled through a CamRanger that produces a live feed directly to a tablet back on the boat. On a tight budget to film a documentary pilot, Hawkins was able to build the USV with low-cost components including Blue Robotics thrusters and enclosures, a remote control radio, and a modular hull.
Hawkins' work on right whales was featured in National Geographic earlier this year and he hopes to be able to share a lot more underwater footage in the future, building public awareness and compelling action among conservationists and policymakers.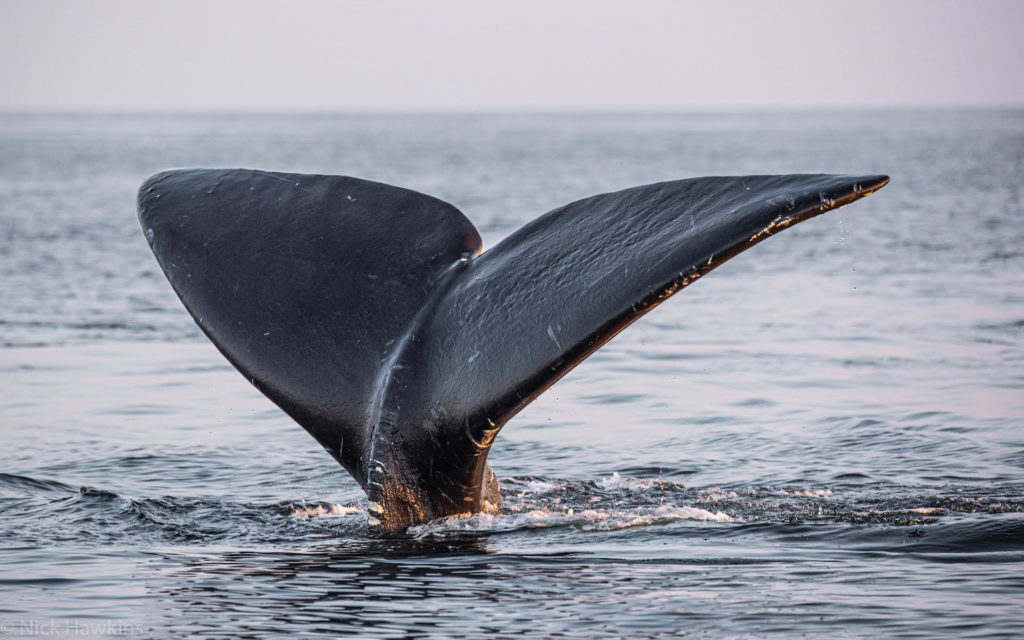 On the opposite side of the world is a roboticist who is taking direct action with marine robotics, Matthew Dunbabin. Dunbabin is a professor of Robotics and Autonomous Systems at the Queensland University of Technology in Australia (QUT). He and his team have spent the last few years building autonomous subsea systems with an emphasis on conservation and have made some impressive accomplishments.
Their primary platform, the RangerBot, is a low-cost AUV with stereovision cameras for localization, mapping, and navigation. In addition to a number of specially built parts, the RangerBot uses Blue Robotics thrusters, lights, sensors, and sonar. Built as a multipurpose platform, the RangerBot has completed some unusual missions compared to the average ROV or AUV.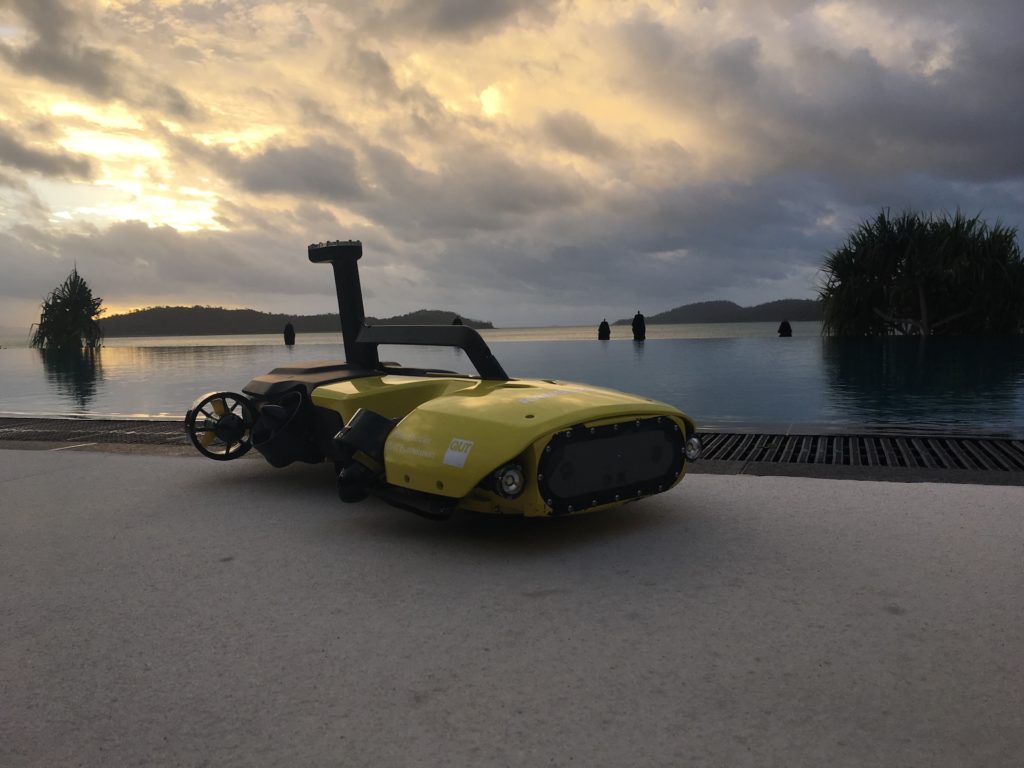 In 2016, Dunbabin and team demonstrated the vehicle as a way to mitigate the overpopulation of crown-of-thorns starfish on the Great Barrier Reef. Using a robotic arm equipped with a syringe full of a specially formulated toxin, the RangerBot autonomously identifies the starfish on the reef and provides a lethal injection. This can also be done by human divers, but the low-cost robotic system is more effective, scalable, and safer.
In addition to reducing harmful populations, the RangerBot also demonstrates an ability to repopulate the reef with the right species. In 2019, the QUT team and their robot, rebranded as the "LarvalBot", distributed baby corals across a reef in a process called larval restoration. Using a selection of corals with a high resistance to bleaching in increased ocean temperatures, this process will likely provide a method for repopulating the reef with sustainable species. Larval restoration can be performed by hand with divers, but the robot is able to work much faster, covering over 30,000 square meters in six hours in their most recent tests. Within the next few months, QUT will attempt to restore a 1,000,000 square meter area using the LarvalBot.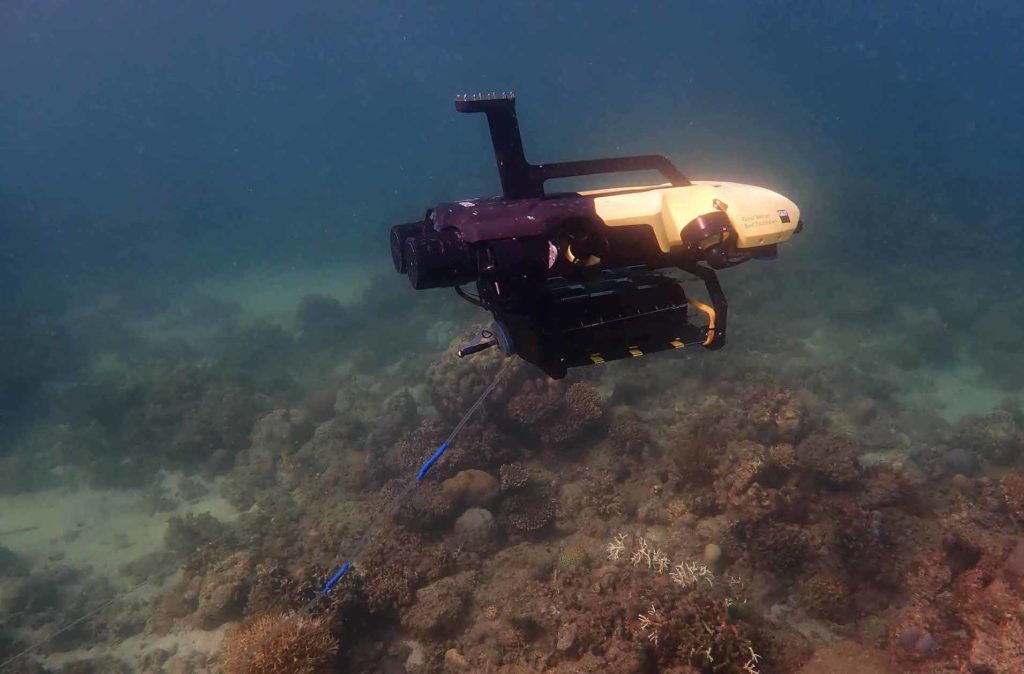 "The availability of low-cost and reliable underwater vehicle components are essential to the scaling of our autonomous monitoring, management, and conservation activities," says Dunbabin. "They allow us to rapidly develop and demonstrate advanced robotic systems targeted for on-the-ground action by citizen scientists and community groups, researchers, and government agencies.
"We want to let the marine scientists do what they do best, which is assessing conditions," says Dunbabin. "We just want to provide tools for them to really upscale the activities that they're doing."
The RangerBot has a lot of new missions on its to-do list, and may someday be used for everything from population surveys to real-time water quality monitoring. The possibilities seem nearly endless and the impact on wide-ranging conservation efforts could be substantial.
These two projects represent just a glimpse of the way that marine robotics can be used to multiply the effect of conservation efforts. Inspired by their work, we at Blue Robotics will continue to focus on providing affordable components and systems that enable and accelerate conservation efforts and other applications that become feasible with affordable costs. We hope to expand the scope of marine robotics' impact on the world and to spur growth of the overall marine robotics industry. We're thrilled to see a little bit of that happening already and we're optimistic that we'll see much more in the future!